CowTribe started with a simple conversation in a car when Peter offered Alima a lift one day. Strangers a few minutes before, they already knew that this acquaintance was not a coincidence and would grow into something bigger. At the time, Alima was working as a journalist reporting on women's development in rural areas in Ghana and could witness firsthand all the problems facing the local population, in particular farmers. She grew up in a village with her grandma, where domestic animals were their primary source of income and food. There were times when the chickens would get sick, leaving Alima's family struggling to make ends meet.
Peter, who was working as a crop insurance agent at the time, had a very similar childhood experience and was already thinking about how he could improve people's quality of life in rural areas. Alima and Peter stayed in touch after their first encounter and two years later set off on a journey they called CowTribe, a solution that to this day helps farmers vaccinate their animals, preventing stock loss and supporting the Ghanaian economy.
Their startup participated in the local Seedstars World Competition in Ghana and won the first place, which gave them first a ticket to the regional Seedstars Summit Africa 2018, and then to the global Seedstars Summit in Lausanne, Switzerland, where they competed with 75+ others for the title of the best startup and $500K in equity investment.
From their home place in Ghana to the pitching competition in Lausanne, we followed their footsteps to capture their path as entrepreneurs and actors of change in their community. Alima and Peter's story became the theme of the first Seedstars documentary about entrepreneurs from emerging markets.
Recently, we had a chance to catch up with Alima to discover how life is going after the Seedstars World Competition and how her second pitch ever brought CowTribe a victory at the local Competition and later helped them get into the 12 best startups from emerging markets at the global Seedstars Summit.
Six months down the line, give us an overview of where CowTribe stands right now. What has changed for the company since the Summit?
I think that after the Seedstars Summit we have been doing very well — we participated in the growth programme powered by Seedstars, analysed all the company data and the business model, and chose the best revenue model. So, the significant changes that happened to CowTribe are connected to the business model.
We realised that just about 40% of farmers who subscribed to CowTribe ended up ordering for vaccines, and we assume that farmers probably subscribed just because their neighbours were subscribing, without actually understanding the value proposition or what exactly they were subscribing for. The other reason is connected to their irregular income source, and so when it's time for vaccines, farmers do not have money to pay for it.
Over the past three months, we changed our model to an annual plan called "Routine Preventive Veterinary Care". This model allows farmers to sign up and prepay for an annual plan where they have the option to pay the total value of services for the year upfront, monthly or quarterly. Once they sign up, they receive a service that includes not only the vaccines but also vitamins, dewormers, and other diagnostic services. When it's time to deliver any of these services, we send a notification to the farmer that on this date the vet will come to deliver the medicine to the animals.
Have you had a chance to see how this new approach influenced your customers and your business in general?
This new business model has already proven that farmers are really in for the annual plans because they can pay for the service in advance, which reduces livestock losses, especially during their low-income period.
Also, we understood that the initial approach of ordering vaccines from the suppliers, which were mainly importers and the government, wasn't that efficient. At times, when we would come for the vaccines, they could tell us that they had run out of medication due to the huge sales. That's why we are now having negotiations with different suppliers to ensure that we have products stored in our central warehouses. It will enable us to predict demand at a certain period and provide service for three months ahead, and not face any supply shortage again.
How do you measure your impact and what are your results so far?
Today, we have almost 2000 farmers as our clients on this new plan. Moreover, around 150 farmers from the commercial farmer segment have already signed up to our new plan. The commercial sector brings us revenue of about $100,000, while a small quota revenue stream is near $20,000. Right now, we are focusing on making sure we have a stable and efficient supply chain system that serves our farmers quickly and conveniently when and where it is needed. To achieve this goal, we have launched 2 new fulfilment centres to bring these products closer to where our farmers are. We have one in Dormaa where commercial farmers are primarily concentrated, one in Tamale, and we are keen on opening the Kumasi fulfilment centre before the end of 2019.
Those are the significant changes that happened to us after the Seedstars Summit.
What kind of benefits did the Seedstars Summit bring to CowTribe?
Thanks to Seedstars, we made a lot of connections with investors and other startups that are dealing with the last-mile delivery. The experiences of other startups inspired us to test our new business model. At the moment, we are discussing investment possibilities with Elea Foundation that we met at the Seedstars Summit, and we hope to close the agreement by the end of the year.
Aside from the connections and exposure, we gained from Seedstars, the Growth Program* was of considerable value for us. We were always asked "What's next?", and we run sprints and experiments. It helped us move forward and realise that some farmers were not able to pay for certain services at specific times, which actually influenced how we changed our model.
So, if we had to live through the Seedstars experience again, the Growth Program would be one of the things we would love to experience again.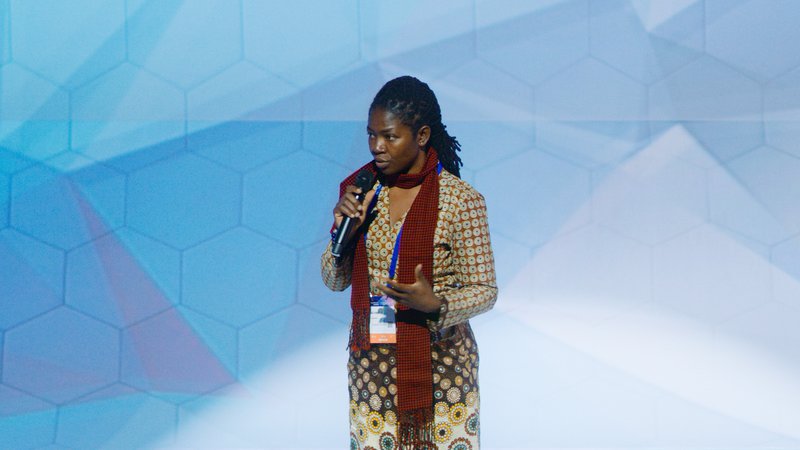 What was the most thrilling and memorable moment for you at the Summit?
I had an upsetting moment at the Summit because I couldn't deliver the pitch in one minute. I really cannot explain what happened, and each time I try to recall that moment, it brings tears to my eyes.
At the same time, the most thrilling moment for me was during the award ceremony. For instance, I had high expectations of CowTribe taking the main prize, but when Blended won, I was really proud of them.
It was a memorable event for me because I got a chance to meet and interact with so many people that I wouldn't have had the opportunity to if not for Seedstars bringing us together.
Where do you see CowTribe in 10 years?
We have only thought about the future of CowTribe five years ahead, but, but you provoked me to think about ten years now (laughing). We are planning to scale to five African countries because we know that Sierra Leone is facing a similar problem, and in Nigeria, Mali, in Burkina Faso, the situation is not any different. It's an opportunity for us to set the system up. We want CowTribe to be that relevant logistics company solving this one specific problem for farmers through useful technological tools.
What are you the proudest of as a co-founder? What is your biggest achievement?
I would say the most significant achievement as a leader was building the whole team from zero to 30 people and counting, and of course, being able to raise $300K for the company's growth. We hadn't anticipated that we would have this rocket-speed growth in less than 3 years. Now, we understand the people and market much better.
Often, the most driven people in emerging markets choose to leave their countries and take their skills to developed economies. Instead, you decided to remain and be the actors of change at home. What made you choose to do so, and can you see other young entrepreneurs doing the same thing around you?
Before CowTribe, I got a sponsorship to go to Denmark, where I worked as a journalist reporting on agriculture and the rural communities. When I came back, I had this strong desire to leave the radio station because I felt that I was wasting time "talking too much", yet very little was done by governments and other partners. Every day I'm reporting on this community, but nothing ever changes, so I felt like "enough of talking". I needed to do something not only for myself but for my community.
I was a part of this problem. I faced this issue when I was growing up, and I knew exactly what it meant for other people in my country. I grew up with my grandmother, and we relied on chickens, which we used to pay my high school fees and other house needs.
When these chickens died, we had a really tough time because I had to drop my classes and do other farm activities to earn money, feed my grandmother and get back to school.
Together with Peter, we wanted to find a solution to the problem that has been around since the time we were kids, that still exists, and that we don't know when it will end. Peter and I are hungry, passionate and desperate to change this situation in our country and Africa, and we want to make the solution to the problem sustainable.
What is the most valuable lesson you learned as an entrepreneur? And as a female entrepreneur, in particular?
I think, as a female entrepreneur, what I have learned is not to be intimidated by male dominance in this area. Most of the times, where men are the principal shareholders, they usually own the entire decision-making process. My partner is the major shareholder as well, but I am lucky to be working with a guy who takes into account my opinions and treats me as a partner without prejudice.
I have become a very fearless woman always ready to take my chances regardless of the outcome because I see every mistake as an opportunity to learn from. I have also learnt to be consistent in whatever I do, and I am not ashamed to ask Peter or anybody for direction when I feel I don't know it, because we have a commitment to build and maintain unparalleled standards in the ecosystem.
What advice would you give to a fellow startup going to the Seedstars Summit?
Very often, startup founders have high expectations of closing an investment deal in the shortest possible time. It's not that easy, especially when you are not sincere about your traction. When you have good traction and you are transparent about it, you won't need to beg an investor and it will be the other way round.
Again, you need to set your priorities right regarding what you want, when you want it, why you want it and how you will use it. Most importantly, entrepreneurs don't know it all. That's why we should be ready to learn as much as we can from key ecosystem actors like investors and other founders.
I know there is always the temptation for many startup founders to scale as much as possible to attract investors because huge numbers sound sexy to them. Today, CowTribe is not really interested in scaling, at least for the next one and a half year. Yes, in the beginning, we made the same mistake, and when we started, we were interested in getting more numbers. However, today we are scaling down to ensure we satisfy fewer farmers with our service, which will allow us to strengthen our foundation, iterate every single component of the business model and prepare for growth. That is what I think startups should focus on.