The Tunis entrepreneurial ecosystem: a complex picture full of challenges and opportunities
No other time has been as opportune as now for Tunisian entrepreneurs to start a startup.
The local entrepreneurial ecosystem in Tunisia is at its prime and hungry for innovative solutions to some of its most painful problems. Our first taxi ride in Tunisia was quite an intriguing one. The radio station that was playing on our trip from the airport was calling for entrepreneurs to apply for a local startup competition, and discussing local funding opportunities, while billboards on the streets showcased the successful entrepreneurs who had previously won such competitions. Promotion of entrepreneurship on mainstream media is a rare occurrence in the region, which brought up our expectations for the days to follow.
Though Tunis ranks quite low on the Seedstars Index, its showing signs of rapid improvement on all three pillars that compose the index; Culture, Opportunity, and Environment. The entrepreneurial ecosystem is in its early days, but it has built strong cultural foundations that could potentially skyrocket the ecosystem's development in the upcoming years.
On the campus of the Mediterranean School of Business (MSB) where we hosted the Seedstars Tunis event, the development of a next generation of entrepreneurs was evident in plain sight. Like at many other universities in Tunis, MSB are developing programs for entrepreneurship, posters of startup events and workshops fill the campus walls, and during the week we were working from their facilities, it was common place to hear students chatting about trends in startups and entrepreneurship. The environment around campus wasn't any different from that of some of the most advanced universities in Europe.
Though the local market opportunity is quite small compared to its neighbours, local entrepreneurs always seemed to have ambitious plans for expansion. Whats interesting though is that these entrepreneurs had completely different plans from one another as to where they should expand. A lot of the startups we spoke to were preparing themselves to expand to France and Europe, while some were targeting Western Africa, and others still, the Middle East. This really goes to show the unique opportunity this highly connected market presents for startups that want to scale. However, the solutions most of these startups are providing are still confined to problems that are very much unique to Tunisia or surrounding countries, where some international players have not yet entered the market. Entrepreneurs have not yet reached the stage where they are thinking of developing unique products that could compete on a global scale.
Tunisia has somehow managed create an environment where the influence of globalisation has not been able to manifest as it has in many neighbouring countries. With regards to the startup ecosystem, that means many of the biggest global players have not been able to penetrate the local market. Mainly due to a failure in legislation around mobile and online payments, startups like Uber or Careem have not established a presence, though the need for them is very strong. It took us on average over half an hour and up to one hour to hail a taxi each time we wanted to go somewhere.
Meet the winners of Seedstars Tunis!
We've noticed through the Seedstars competition that key players in the ecosystem are highly collaborative and willing to help and support one another. Unlike in other countries where the potential for new connections has almost reached saturation, our Seedstars Tunis brought together a variety of people from different backgrounds who were able to connect and create new opportunities. Though our event in Tunis was quite a small one by Seedstars standards, it brought together the full range of players in the ecosystem from entrepreneurs, corporate executives, high ranking government officials, ecosystem enablers and even students who all shared a common interest in entrepreneurship and technology.
The top 3 Seedstars Tunis startups are all working to solve problems that the large international players have not been able to tackle due to the uniqueness of the local market.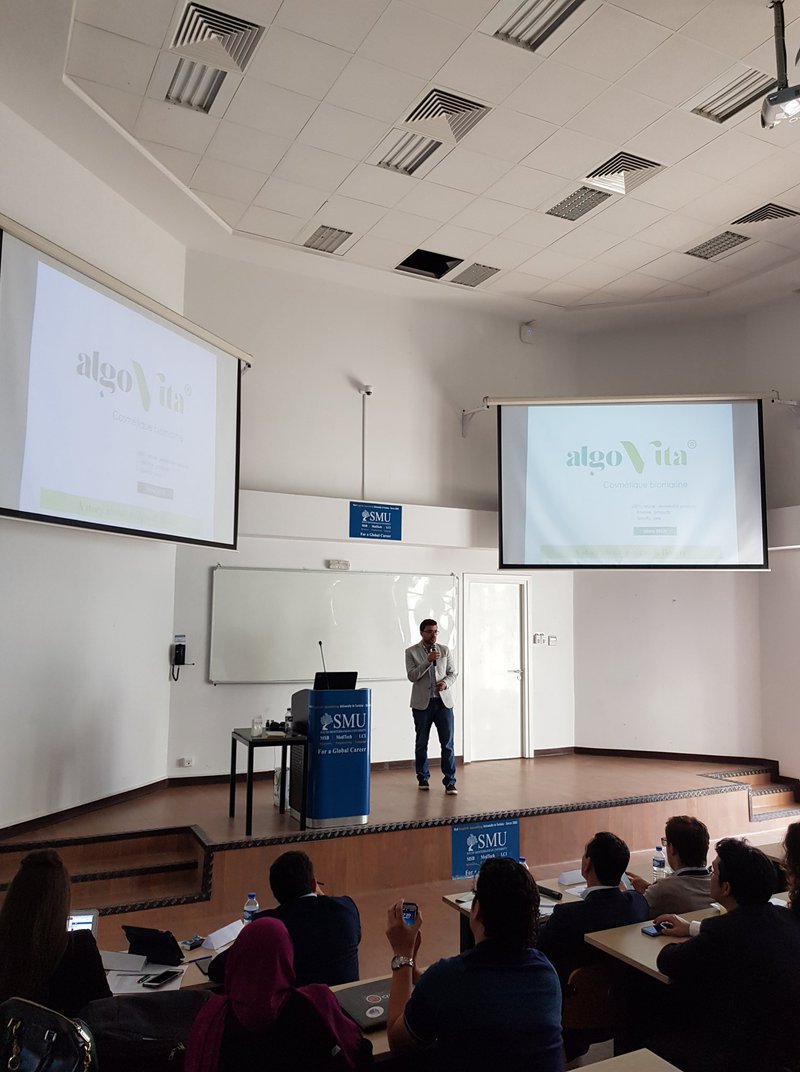 The winning startup, Optimalogistic, developed by a group of experienced experts in the logistic industry, came out of their frustration with the inefficiencies they saw in trucks travelling for miles with empty loads.
The second place winner, Kpeiz, developed a social media management tool, as while working at a media agency they suffered from the lack of availability of a tool that could track Arabic posts, and no international players provided the necessary customer support in local markets.
The third place startup, Vendis, saw that more traditional businesses wasted a lot of time on salesforce management, and no international tool was simple enough for seamless on-boarding for these companies, so they developed a tool tailored to how local business operate, and have managed to on-board some of the largest players in industry.
What to expect from Tunisia
One of the main problems facing entrepreneurs that want to scale in Tunis is a severe lack of funding. There are very few local players that provide equity funding for startups, the entities that do provide minuscule amounts of funding and usually in return startups have to give a lot of equity (15-30%). Most of the startups we encountered were bootstrapping or relying on grants and loans to sustain their business. The majority of the funding to entrepreneurs is coming from incubators or acceleration programs that give startups cash, mentorship and a place to work. More programs have been announced which aim to fund 1000 startups over the next 5 years with small 20k injections.
The support for startups is also high on the agenda for many private sector firms, banks and corporates in Tunisia. Some of these entities have taken initiative and developed their own VC arm, incubator or acceleration program. The Seedstars Tunis main partner for example, Wevioo, has began to work with startups in their innovation and performance improvement consulting projects with corporate clients. More and more companies have began to consider digital innovation as a priority and the links between corporate and startups is a large supporting factor in ensuring the long term competitiveness of these businesses.
The Tunisian government has also seen the value of startups and entrepreneurship for the economy. The Ministry of Information and Communications Technology recently passed the "Startup act" a new piece of legislation which aims to make entrepreneurship a more sustainable and less risky career choice. The Startup act will help entrepreneurs in Tunisia focus on building their products and developing their businesses, by facilitating incorporation, providing up to 8 years of tax exemptions for startups and providing wages to startup founders in their first year to ease their financial burden. With this in place, the number of startups is expected to rise dramatically as potential entrepreneurs are in a nothing to lose and everything to win situation.