Selection of the best Ukrainian startup
EVE.calls won Ukrainian round of Seedstars World.
EVE.calls, conversational intelligent agent for business capable to substitute call centres, was selected the best startup in Ukraine for its disruptive solution. "It was a great challenge for us to create a human-like voice bot. We did about 1.8 million calls during last year. And the results were pretty impressive: most of the customers didn't realize they were talking to robot," explains Founder of EVE.calls Oleksiy Skrypka.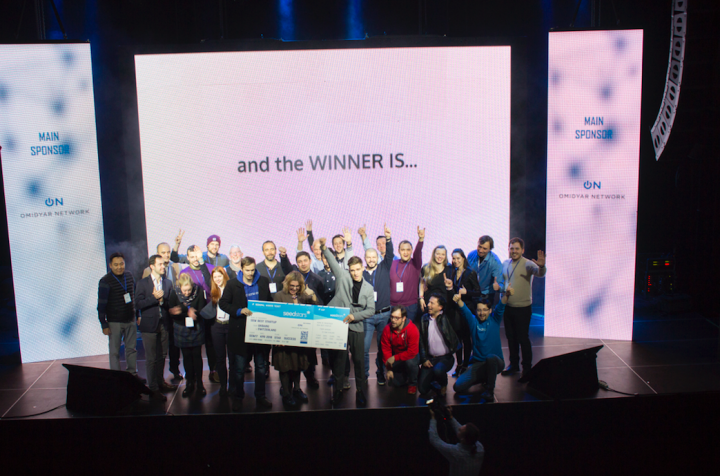 bNesis with its platform that streamlines API integrations and teaches banks "to talk" to eWallets, scoring, payment and banking systems, came second, and Senstone, stylish wearable for capturing spontaneous ideas on the go based on voice-to-text technology, grabbed the last spot in the top 3. The other startups invited to pitch were VRnet.io, NOSO Inc., TalentScan, Vernu, Hexwix, TvStyle, BotMakers, IRAengine, Docsify.
12 startups pitched in front of the coolest jury: Ali Karabey (Managing Director, 212), Stephane Gantchev (Partner, LAUNCHub Ventures), Fredrik Andersson (Investment Manager, Seedstars), Igor Semenov (Partner, TA Ventures), Zamir Shukhov (CEO & Partner, Global Venture Alliance), Alexey Mas (IT Digital Advisor & Head of Innovation Lab, Kyivstar).
Pitches of the CEE finalists
9 startups from CEE and Central Asia showcased their projects and how they can impact their region's development by leveraging innovative technologies: WakeMeUp (Azerbaijan), SatisMeter (Czech Republic), TataTunga (Mongolia), Clockster (Kazakhstan), BabyMoon (Moldova), RehabGlove (Georgia), Chessify(Armenia), Marvelmind Robotics (Russian Federation). They got crash-tested by the jury panel that included Cristobal Alonso (CEO, Startup Wise Guys), Olena Boytsun (Investment Lead for CEE region, Omidyar Network) and Marko Srsan (Program Manager | Techstars London, Techstars).
Some of the startups were nominated by the Summit partners: Microsoft named RehabGlove and Clockster as the Best Innovation startups; TechChill & Startup Wise Guys chose Docsify and Senstone to have the Best pitch. LAUNCHub Ventures presented 2 tickets per team to Digitalk conference in Bulgaria for Docsify and Eve.calls. And Kyivstar gave tickets to the World Mobile Congress in Barcelona to the Senstone team.
Announcement of Seedspace Kyiv
Igor Ovcharenko, Business Developer at Seedstars and Seedstars CEE Summit organizer, announced that in 2018 they will open a new coworking and co-living space in Kyiv for startups aimed at developing the people's lives in the region – Seedspace, that will join the network of such spaces all over the world.
Amazing Keynotes on burning topics
The Summit also featured keynote speakers from global companies, business incubators and VC funds:
Suresh Patel (Managing Partner, Iseo Ventures) explained "The Value of Regional vs Tourist VC Investors in the Emerging Europe"
Max Gurvits (Director for CEE, CIS & MENA, Cross Border Angels) talked about "Honest Foundership: Understanding Attitudes that will Increase Your Chances of Winning in the Tech Business"
Andreas Slettvoll (Co-Founder, CHOOOSE) told about "Building Purpose Driven Businesses"
Zamir Shukhov (CEO & Partner, Global Venture Alliance) covered "Startup Education: from High School to Global Market" topic
Hans Mies (Partner, KPMG) told about "Fintech and Digital Crowdfunding Switzerland"
Torben Majgaard (CEO & Founder, Ciklum) described the "Success Journey"
Pavel Bogdanov (General Partner, Almaz Capital) told us "Which Startups are the Most Attractive for VC investors?"
Viktor Tsykunov (ISV Lead in CEE, Microsoft Ukraine) described the way "From Innovation to Digital Transformation"
Bindi Karia (Innovation Expert + Advisor, Super Connector, Bindi Karia) talked about "Empowering Women Entrepreneurship"
Olga Polishuk (COO, Strelka Institute for Media, Architecture & Design) and Patrick Bosteels (Founder, Stage-Co) discussed "Leapfrogging Smart City Solutions in Emerging Markets" at the Fireside Chat.
Two-days Invite-Only Bootcamp
Prior to the Conference, Seedstars World hosted a 2-day invite-only Bootcamp, where 21 startups had over 300 one-to-one meetings with world-class local and international mentors and investors. During these days, the most active technology and business ecosystem players from Europe and Central Asia participated in Civic Tech Workshop, working on new solutions in the civil sector, Investor Forum that brought representatives from 212, 1991 Open Data Incubator, Almaz Capital, Balkan Unlimited, Black Pearl VC, Boomtown Accelerator, Cross Border Angels, Digital Future, Firstminute.Capital, Founders Factory, GVA, Imperious Group, Intel Capital, Khazar Ventures, LAUNCHub Ventures, Omidyar Network, Startup Wise Guys, TA Ventures, Techstars, Tera.vc, TMT Investments, UAngel, Venture Club, Wannabiz, Logitech, Luxoft etc., and Game Changers Forum powered by Smartup Network, that contained roundtable group discussions led by Seedstars World Ambassadors dedicated to various topics, as for example, how to build sustainable startup ecosystems in emerging markets.
Many thanks to our Partners:
Seedstars CEE Summit was hosted by local ambassador organisation Creative Space Chasopys, with support of innovation partner Kyivstar and technology partner Microsoft Ukraine, in strategic partnership with Omidyar Network, the philanthropic investment firm established by eBay founder Pierre Omidyar, in order to impact startup ecosystem in Ukraine and CEE. The event was also supported by Embassy of Switzerland in Ukraine, Luxoft, and the global partners: Amazon Web Services, Fribourg School of Management and TRECC.
Below is the list of the CEE finalists that will compete for the $1,00,000 prize on April 12th, 2018:
Do you want to take part in the grand final of Seedstars World 2018? Get your ticket here!