However, the crisis that event organizers around the world are being called to face head-on right now is like nothing any of us has seen before.
COVID-19, the disease caused by the novel coronavirus and declared a pandemic on March 11 by the World Health Organization, has been wreaking havoc on health care systems, governments, small businesses and entrepreneurs, travel and hospitality, the event industry, and beyond.
Events industry feeling the impact of the coronavirus pandemic
In response to the COVID-19 outbreak and in light of the health and safety recommendations, events around the world have been canceled, postponed, or moved online. The virus has had a significant impact on almost every industry out there, but the events industry might be amongst the ones taking the biggest hit.
Taking into consideration only the 10 biggest tech events being canceled, the direct losses soar beyond $1 billion according to estimates by the data intelligence company PredictHQ. Some $480 million - the biggest loss - came from the cancellation of Mobile World Congress, which was supposed to host more than 100,000 attendees in Barcelona in February.
Microsoft Build developer event in Seattle moved online amid the coronavirus outbreak. Google canceled its developer event, I/O, due to the outbreak. E3, Mobile World Congress, and Facebook F8 were also canceled.
Code for America responded to the cancellation of its annual summit by holding a panel in a virtual setting. Both the Adobe Summit and Google Cloud Next's organizers have opted to move their relative summits online. SXSV conference was also one of the conferences that moved online due to the coronavirus outbreak. The 2020 Tokyo Olympics and Dubai's Expo 2020 have also been postponed due to the COVID-19 pandemic.
This is especially concerning seeing that a survey of more than 1,000 mid-level and senior marketers last year by event software platform Bizzabo showed that 41% of them considered live events to be the most critical marketing channel. Almost all said in-person events are valuable opportunities to form connections in an increasingly digital world.
As the threat of coronavirus continues, it's likely more events big and small will be canceled.
In what can seem like gloomy and hopeless circumstances, we chose to completely overhaul our plan and run our Seedstars Summit exclusively online.
"The pandemic has hit world economies hard, and young businesses will be on the frontline during the recovery period. To support them, Seedstars' mission of impacting lives in emerging markets through tech and entrepreneurship needs to speak loudly," Seedstars CEO and Co-founder Alisée de Tonnac said in an online press conference.
The silver lining in the very grey clouds
True to the resilience and growth mindset we stand for, the Seedstars Summit was held online from 31 March to 3 April.
The event was completely free and open to anyone willing to participate. The accessibility of the event was its biggest benefit. Seedstars was able to reach and engage more people than ever before, especially in emerging markets.
The Summit gathered more than 5K online attendees, 19K+ registrations and produced 50+ content pieces (including podcasts, video stories, and a documentary). It was quite an impressive achievement for us as the online event was prepared and promoted in just one month.
For many participants, this was also the first time joining an entirely virtual experience. Many were positively surprised at just how much an online event can be interactive and engaging.
As part of the Online Seedstars Summit, we tested a new format The Mag (Magazine) covering four topics - accessibility, education, environment, and migration. Each episode featured companies and organizations that operate in those areas helping improve the lives of people around the world through their innovative solutions.
Also, the online Summit hosted the finals of the Seedstars World Competition. The event showcased 44 most promising emerging market startups that competed for the title of Seedstars Global Winner and up to $500 000 in equity investment as well as other additional prizes. A total of 5000 startups from 86 countries entered the Seedstars World 2020 competition.
Five of 44 startups became the finalists in this virtual edition. The jury chose a Russian edtech startup StudyFree as the Seedstars World 2020 winner. StudyFree is the first company from the CEE region to win the competition. Theirs is a one-stop platform that helps students to get successfully admitted into universities worldwide with full financing.
As part of the program, together with our platinum partner Office for Economic Affairs and Innovation (SPEI), we also awarded the Public Prize by VAUD. Everyone was invited to support their favorite startup by voting on our website. The winner of the Public Prize became Andreana Castellanos, CEO & Founder of Afinidata.
Our esteemed partners the DOEN Foundation, the Jacobs Foundation (TRECC), the School of Management Fribourg (HEG-FR), the Human Security Division (HSD) and the Qatar Assistive Technology Center (MADA) granted awards to a select number of startup, which were announced at the closure of the Summit:
The Land Restoration Prize by the DOEN Foundation was won by Bethelhem Dejene, CEO & Founder of Zafreepapers

The Transforming Education Prize by the Jacobs Foundation TRECC & School of Management Fribourg was won by Jessica Hammer, CEO & Co-Founder of Programa Valentina

The ICT Accessibility Prize by the Qatar Assistive Technology Center (MADA) was won by:
Hugo Jácome Andrade, President & Co-Founder at Talov
René Espinoza Jimenez, CEO & Founder at Lazarillo

The Migration Entrepreneurship Prize by the Human Security Division (HSD) was won by:

Aline Sara, CEO & Co-Founder at Na Takallam
Berat Kjamili, Co-Founder at Migport
Jens Olsson, CEO at Life Shelter
Ahmed Abu ElHaz, CEO & Founder at Shezlong
Nat Robinson, CEO & Co-Founder at Leaf Global
Amr Bakr, CEO at 7keema-nursing services
Fatoumata Bocoum, CEO & Founder at Denko Kunafoni
Cecil Senna Nutakor, CEO & Founder at eCampus LLC
Uche Kenneth Udekwe, CEO & Founder at NATAL CARES
Chidi Nwaogu, CEO & Co-Founder at Publiseer
Life Shelter, winner of Migration Entrepreneurship Prize by HSD
Breathe in… Breathe out
Reworking an offline, in-person experience into an online one is challenging. The online event is an entirely new product, and also requires a brand new approach and expertise in production, marketing, and management.
The whole Seedstars Summit team had to completely shift from managing the logistics of an in-person event to managing marketing channels and tools that matter in a virtual experience.
It requires a lot of "breathe in and then breathe out", as Laure de Peretti de la Rocca, the Summit Manager, says.
Here are some of Laure's practical recommendations and insights to consider if you're choosing to move your in-person event online:
Get back to the essence
Before you start working on anything else, connect with your 'why'. Ask yourself, "Why are we doing this event?"
This will help you with many of the decisions that are awaiting you down the line.
Dissect the original agenda of the event and categorize each agenda slot into one of the following categories: "essential", "good to have", "not replicable", "not necessary". Use your "why" as your guidance.
Prepare a clear action plan
Now that you have more clarity on what will remain on the agenda, what you'll transform, and what will be canceled – restructure your team. Form smaller teams to work on achieving those new goals.
Seedstars, for example, formed four teams:
Keep & transform: This team worked on organizing the new online event, together with the digital team.
Cancelation: This team contacted the contractors, analyzed the legal options for cancelation fees, and negotiated to cancel or report different services.
Partners & admin: This team negotiated and conversed with all the event stakeholders trying to continue the collaboration by finding a new place and value for them.
Communication & PR: This team created a whole new communications plan in order to reach new online goals.
Since the role of communications and PR takes on a whole new dimension in these circumstances, Saniya Giniatullina, the Marketing Lead at Seedstars, shared her communications tips and insights when it comes to running an online event.
Have a well-defined target audience. Online events defy geographical barriers, so you can suddenly reach more people than before.
Timing is essential. Make sure you use all the time you have before the event to promote it. Set up reminders on multiple channels (Facebook messenger, Calendar, Social Media Retargeting Ads, Newsletter, etc.) and use the momentum after the event to follow-up on your leads.
Make the event registration super lean and simple. Remove any potential barriers that might detract someone from leaving their contact information with you. For example, ask for a first name, last name, and email only. If you're doing social media ads, do an in-app form.
If you're hosting a public event, ensure that your servers will be able to host a large audience. Try to spread out the notification of the event going live every 15 minutes.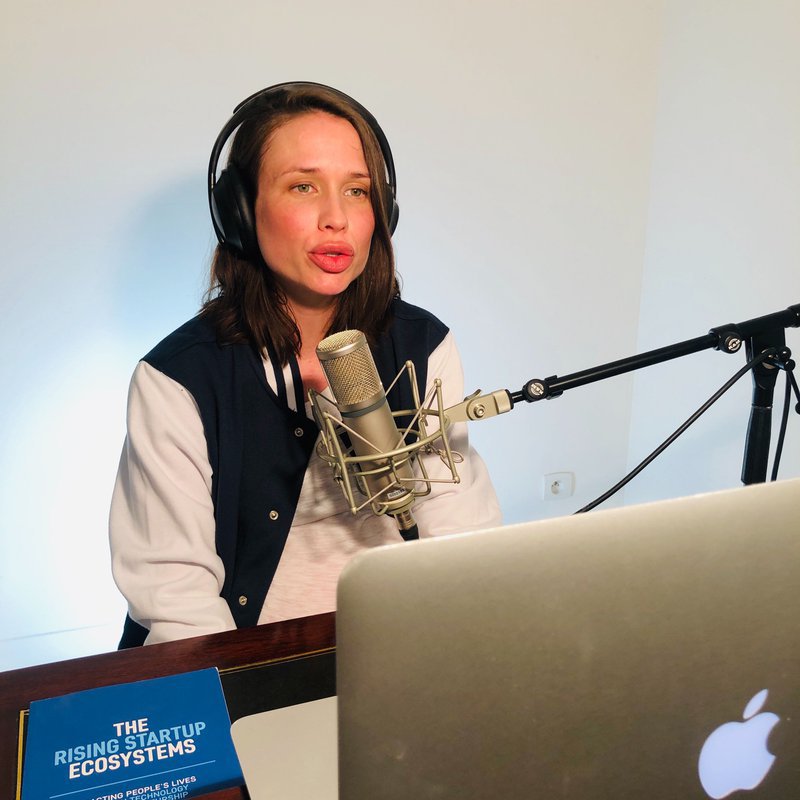 Alisée de Tonnac is hosting an opening of the Online Seedstars Summit 2020
Step back, enjoy, and be proud!
Transforming an in-person event to an online event, especially in a short timeframe, is a challenge for any event organizer. However, it's also an opportunity to reinvent oneself.
"After all the hard work, step back and enjoy the fruits of your work!", recommends Laure de Peretti de la Rocca.
Going beyond physical interactions to create impact
The Online Seedstars Summit was most certainly different from an in-person event. The attendees weren't able to engage in small talk or engage speakers in a quick walk-and-talks. Spontaneous interactions between panelists were non-existent. However, the event was far more inclusive than ever before and it pushed the entire organization to get creative with going online.
For example, the Seedstars team had to ponder how to recreate informal interactions - which are an important part of in-person events. The team got inventive, organizing online parties and informal get-togethers.
Seedstars' ability to adapt so quickly to an online framework is also credited to our operative model. We work largely through decentralized remote teams that are already accustomed to collaborating online.
But the organization as a whole learned a lot from this experience – much of which we are going to apply to our work in the future.
This is a stressful and uncertain time for many businesses, but opportunities to transform are always found in the mud and the muck.
Bonus tips
Here are the tools that we used to make the Summit happen:
Zoom Pro
Hubspot
Google Docs
Google Analytics
Google Ads
Facebook Ads
Google Data Studio
Meltwater
Similarweb
Youtube Analytics
Facebook Analytics
Messenger integration