However, adapting to the new circumstances was also necessary at home, whether it's taking the time to care for an infected family member, making sure everything is disinfected or that the kids make it to the 8 AM online class. The workload has increased with the addition of care work needed to keep up with the new situation, all while health risks and economic instability were looming over us. Disproportionately affected by this were women, who on average carry out at least two and a half times more unpaid household and care work than men. In Asia-Pacific, the inequality is even higher and women and girls spend up to 11 times more of their day on unpaid care work than men and boys (before pandemic and further widening). The data also shows that a high 42 per cent of women outside of the labour force are there because they are performing unpaid care work.
Reports state the worth of the entire care economy at a staggering $648 billion USD. But, where exactly does the care industry come into play? With the global population and the number of elderly people both increasing, it is to be expected that the industry of caring for people, from infancy to old age, will be an even bigger part of our everyday lives. What is included in the care industry is somewhat open to interpretation- childcare, tech for parents, household management, elderly care facilities and caregivers etc. Room for improvement was clear when COVID-19 reached elderly care homes, where it spread very quickly and unfortunately ended in many deaths. Not only were the people living there in danger, but also healthcare and social care workers, who have twice the death rate due to COVID-19 compared to the general population according to a UK research.
To help these innovative solutions grow and thrive, UN Women ͑s WeEmpowerAsia programme, funded by the European Union, UN Women ͑s initiated the UN Women Care Accelerator , a collaboration with Seedstars , and the Innovation Center Bopinc. The aim of this six-month long program is to support women-led and women-benefiting businesses to create jobs and income for women, thus turning the unequal care burden women carry into economic opportunities.
"It's great to be able to support innovators trying to disrupt an industry that is oftentimes overlooked. We hope our accelerator brings the right push to the care sector and sets companies up for rapid growth." says Eugenia Shevchenko, Acceleration Program Manager at Seedstars.
"Women's unequal share of care responsibilities is not only mainly unpaid, but it also results in preventing many of them from fully participating in the economy. It's time to stop this inequality for the benefit of women, families, and societies. We've selected leading startups that are generating change in the care sector with promising solutions from creating accessible and affordable care services to providing employment opportunities and useful technology and tools. It is our mission to amplify the impacts of these companies and create a more inclusive care economy, ultimately increasing women's economic participation," said Katja Freiwald, Regional Programme Manager of WeEmpowerAsia at UN Women Regional Office for Asia and the Pacific.
We have selected thirteen startups from the Asia-Pacific region working in the care-giving industry and talked to them about the innovations they are bringing to the table:
Kiddocare
Nannyz (Find a Nanny)
Kiidu
Angels & I Children Daycare
TiTLI
Pillar Health
Carer
Bihani Social Venture
AYAT Care
LoveCare
Aseana Caregivers
Mobiva
JobNukkad
Rethinking Childcare: Models leapfrogged during the pandemic
After schools and kindergartens closed their doors because of infection concerns, many parents were forced to quickly find a new childcare solution, especially if they weren't among the workers able to work from home. Not only that, but childcare providers had to make sure their carers are not infected and are taking all of the safety precautions.
Childcare platforms such as Kiddocare saw this situation as an opportunity to improve the conditions of childcare in Malaysia. Nadira Yusoff, the CEO of Kiddocare, and her team want to create a circular economy where women can be trained to work as professional childcare providers to support other women and their childcare needs. Their model would help elevate the value of childcare workers in the country and hopefully ensure decent pay and improved working conditions, all with the help of technology. " We are working on technology that would improve access to on-demand childcare, reliability of service providers/caregivers, and enhance safety and security of services. Our model also uses data and AI technology to personalise support required throughout the child's development,." said Yusoff.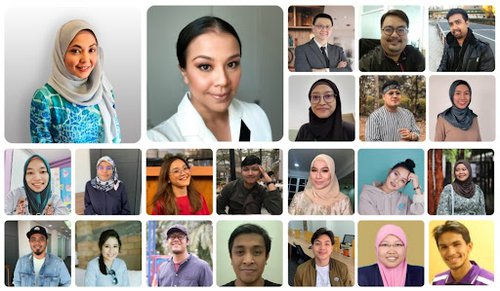 The Team of Kiddocare
Technology advancement is also the focus of Nannyz.com, a Singapore-based website which helps families find childcare professionals. Their CEO Michael Tunstill decided to focus on building a childcare provider platform after having issues with finding a nanny for his daughter. He shared that the company's revenue initially dropped by half during COVID-19 as the government clamped down on foreign domestic workers entering Singapore, along with social distancing and other restrictions. ͑"We are continually fine-tuning the website by adding features which provide better matching of care-givers to employers as well as improving safety for users." Nannyz.com was built to replace the decade old website findananny.sg and incorporates many improvements.
Like Michael, Alfiah Strohal, founder of Kiidu, also used her own experiences to develop a business to fill the gaps in the industry. Her focus was on creating a simpler and faster process of hiring caregivers, but also on working with caregivers to ensure their rights to fair pay and decent working conditions are fully protected: "Training is key to reducing many of the pain points between customers and caregivers, so we are focusing on skills training, language training, and labor rights training. We empower our caregivers by offering training that betters their opportunities to find the perfect job and helps them meet the parents' and families' expectations and standards while protecting them from abuse, work overload and unpaid jobs." Her team is also working on educating caregivers on safety and hygiene and encouraging them to get vaccinated or go on regular testing, in order to ensure safety for them and the clients.
The Team of Kiidu
Childcare is not only about making sure that the children are safe, but it is also about education and child development. That is why Inna Widjajanti and her team at Angels & I Children Daycare changed their business model to be more accessible to parents: "We are focusing on creating a digital platform where parents can find a suitable nanny to take care of their children according to the age and development level of the child. The nanny can report the activities or progress/milestones achieved daily, and the parents can consult about their kids' development through the app."
Inna Widjajanti and her team at Angels & I Children Daycare
Early childhood development is critical in order to ensure later success and development, for the child but also society at large. With the pandemic and a huge number of children out of school, digital learning has been in the spotlight for its ability to increase the accessibility of education. The need for change has been recognized by Pranjal Modi, CEO of TiTLI, who is working on building capacities of Early Childhood Educators and Caregivers in both rural and urban areas of India, saying: "Technology has made significant in-roads in the care ecosystem, helping caregivers build capacities and access clients remotely. We are rolling out WhatsApp Chat Bot and IVRS based intervention for reaching out to children in the remote areas of India who may or may not have access to the internet. We are also incentivising innovation at the grass levels and rewarding Front Line Workers and Cluster Coordinators for suggesting and implementing innovative solutions in their areas."
Team TiTLI working with children
Demand for elderly care is rising, but there are other factors to consider
The number of elderly people in certain Asian regions is projected to grow by 923 million by the middle of the century. In Indonesia alone the number is projected to reach 33.7 million by the year 2025. Startups like Pillar Health have recognized the need and opportunity to professionalize the care industry and bring it to international standards. "We are focusing on helping independent caregivers, nurses and other healthcare professionals have more resources and online tools to operate more successfully on their own.," said the CEO of Pillar Health, Andrew Mastrandonas.
The team behind Pillar Health
Similarly, the people behind Carer are going the extra mile and helping caregivers find work in these challenging times. "Beyond providing care services, we are looking at scaling our caregiver training programmes as well as providing tailored resources and nursing consultations for caregivers. This will help grow the supply of qualified professional caregivers and improve the current standard of informal care provided by family caregivers," tells Sherlyn Chen, CEO of Carer.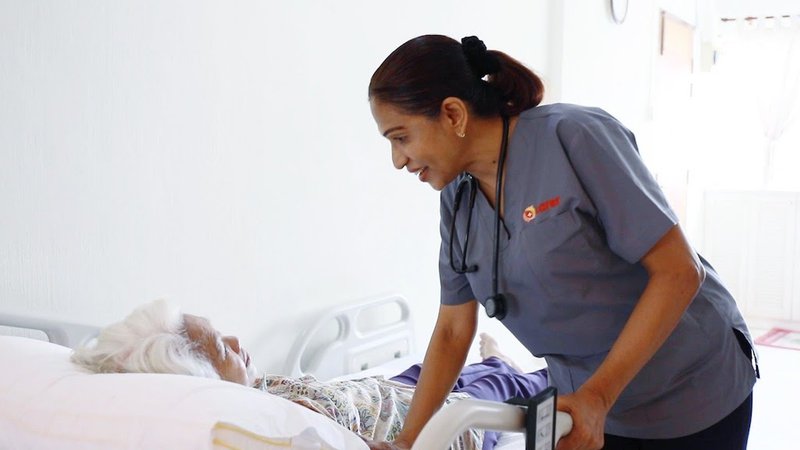 Carer's nurse providing homecare
The Nepalese startup Bihani Social Venture is also focusing on elderly care and bringing technology closer to the older generations, but this is a daunting task as many of them are still reluctant to use it. Bihani is emphasising the Social Prescription model to improve the health and well-being of their clients, says their CEO Santoshi Rana: "We believe that elders' experiences are valuable to make a difference in our communities. We work to make sure that no elder or individual is left behind, abused, or feels isolated as a result of other social conditions or currently due to the pandemic. We are currently promoting digital empowerment and inclusion of older adults along with designing the first app of its kind in Nepal focusing on older adults specifically."
Santoshi Rana and the Bihani Social Ventures team
Relieving the mental and physical stress caregiving places on women, especially during a pandemic, is at the heart of the holistic caregiving approach developed by AYAT Care. Their startup is working on female empowerment by creating education and career perspectives, providing support to home caregivers and raising health awareness and literacy while focusing on preventative care for the elderly through trained care coaches. CEO Nusrat Aman says," Recognizing the huge healthcare gap between the healthy adult and the aging person in need of caregiving, we are realizing a concept of personalized monitoring and consulting of the elderly, mental and physical activation, dietary advice, and physiotherapeutic interventions and support in the family's decision making. Through this wholesome approach carried out through a multi-professional team, we are aiming to lead the elderly into a healthy lifestyle, revoking unnecessary medication and recognizing illnesses at an early stage."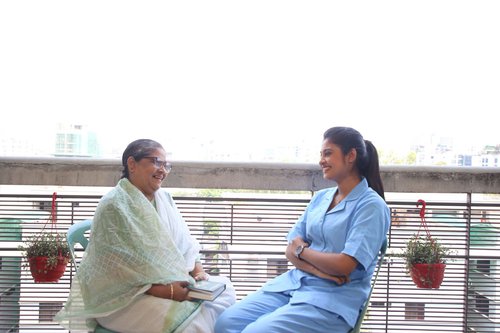 AYAT Care team providing care for an elderly woman
Is the care industry ready for technology as a force for progress?
What makes elderly care specific is often the need to have trained nurses or medical staff on board. Whether it is due to chronic illnesses, rehabilitation purposes or conditions such as dementia or Alzhaimer's, elderly care and healthcare go hand in hand. Healthcare providers around the world were put to the test in the last year. WIth the number of COVID-19 patients rapidly rising, testing facilities being overworked and the race towards developing the vaccine happening, the often underfunded and understaffed health systems were struggling to keep up with the demands for service. The situation also highlighted the impact digital technology could have on providing more accessible healthcare to all.
Among the top ten most digitally advanced economies in Asia and the Pacific, around 90 percent of the population have access to the internet. Entrepreneurs in HealthTech see this as an opportunity: "Telehealth is more commonly used now than they did before COVID-19 so we are focusing on developing an online marketplace for professional carers and families to find each other, as well as upgrading our telehealth technology and our online recruitment system," said Susan Nio, CEO of LoveCare.
Team LoveCare with their clients
The team behind Aseana Caregivers is preparing for Singapore's "Silver Tsunami'', meaning that one in every four Singaporeans will be over 65 in 2030. "We want to be in the forefront of the Care economy, thus we are building an all-in-one Home Care app that would allow clients to book home care services, order medical equipments and consumables, but also be a platform for care providers and telemedicine," said Thess Worster.
Aseana Caregivers
Internet access is only one part of the equation in making HealthTech accessible to the older generations. The other important factor is developing digital skills needed Making elders feel more included and finding the right caregivers was the reason behind starting Mobiva for Wendy Leong as well: "We are on a mission to build sustainable and resilient communities using affordable and accessible technologies to make ageing well, a reality for all. There has been an exponential growth in the adoption of telehealth and IOT devices for home-based surveillance and healthcare delivery solutions. Our focus is on using cloud computing with mobile edge computing comprising IOT devices and data analytics to transform the traditional care system into a community-based care system."
Mobiva Team
Using technology to mitigate societal disadvantages has been recognized as one of the goals for many entrepreneurs around the world. For Komal Jain, CEO of JobNukkad, providing job security with tech-enabled solutions for female caregivers is his primary objective: "We have created solutions for our non-tech savvy TG to be able to use their feature phones (without internet connection) to find jobs in their locality. They just need to give us a missed call to register themselves or to signal their availability for a job. Our tech solution costs the care receivers just 10% of the cost of non-tech solutions, thus ensuring more jobs and maximum connections between care givers and receivers."
JobNukkad Team
It is obvious that the care industry still has a lot of growth potential, especially as the use of technology is on the rise. Luckily for us, there is no shortage of motivated entrepreneurs working on making it more accessible and innovative day after day.
You can check out all of the startups that are part of the UN Women Care Accelerator program as well as find out more about it here. If you are willing to connect or invest in any of the startups within the UN Women Care Accelerator programme, please reach out to Seedstars' Accelerator Program Manager Eugenia Shevchenko at [email protected]