The entrepreneurship landscape in the MENA region is growing at unprecedented speed. Only in H1 2019 MENA startups raised over $471 million, which is by 66% more than in the same quarter previous year. Governmental policies become friendlier to startups and investors, and companies such as Careem, the first MENA unicorn, serve as role models for other entrepreneurs and a proof that the region holds untapped potential.
This year, 15 countries welcomed the local Seedstars World Competition, and as a result, we've got 15 new promising startups joining our network. They will continue their battle for the title of the best startups and 500K in equity investment first at the regional Seedstars Summit MENA, and then, during the global Seedstars Summit 2020 in Lausanne, Switzerland. The next Seedstars Global Winner could likely be among those startups.
Meet all the local startups that will represent their countries at the regional Summit in MENA:
🇧🇭Bahrain
Hayatech is a B2B, Software as a Service (SaaS) and connected hardware platform that aims to build an ecosystem around wellness.
🇯🇴Jordan
Dealat is a middleman service that helps its customers generate new leads.
🇮🇶Iraq
IOT kids is an online platform, teaching kids logical thinking through coding and robotics.
🇸🇦Saudi Arabia
Quantum is a data-driven targeted sampling platform, which aims to digitize the sampling industry and help make it more accurate.
🇲🇦Morocco
Kifal Auto is a digital platform that makes the experience of buying or selling a car safe and smooth.
🇪🇬Egypt
Hospitalia is an integrated healthcare platform, which provides access to premium medical services at any time and anywhere.
🇹🇷Turkey
Optiyol helps freight and passenger transportation fleets for smarter route schedules that reduce costs and improve on-time performance
🇱🇾Libya
IStudy is a mobile app helping parents watch their children's progress at school.
🇹🇳Tunisia
Seemba is a revolutionary plug & play solution that turns any mobile game into an e-sport platform.
🇩🇿Algeria
GO PLATFORM is the first discovery platform in Algeria that empowers, assists and develops the youth in the country.
🇱🇧Lebanon
Speetra Design Studio is a company aiming at digitizing the fashion industry to create sustainable, innovational, luxury 3D printed clothing.
🇶🇦Qatar
EButler is an online platform that serves as a digital butler connecting people to the best service providers in the city.
🇰🇼Kuwait
Bookr App is a marketplace that allows its users to discover salons and make instant booking of services.
🇴🇲Oman
oTaxi is a solution that integrates city transportation for users and driver-partners onto a mobile platform providing easiest, straightforward, and snappy service satisfaction.
🏴󠁰󠁳󠁲󠁢󠁨󠁿Ramallah
Kenz is a designer lingerie online shop that aims at becoming the premier destination for lingerie shopping in the Middle East.
Also, seven startups that won the challenges powered by our partners MADA Qbic will join the event.
Startups selected by MADA tacking the accessibility issues:
🇹🇷Turkey
Loud Steps provides people with vision disabilities with indoor exploring & steering capabilities by bringing together venue maps, radio signals, and unique navigation.
🇪🇨Ecuador
Talov, a company that builds sophisticated and functional products and services for people with visual and hearing impairments.
🇺🇸USA
Loro is a smart personalized companion giving people with limited mobility the freedom to connect with the world.
🇨🇱Chile
Lazarillo is a technology that allows creating virtual maps of various facilities with the help of
Startups selected by Qbic from Qatar:
Accounting panel is a solution that helps entrepreneurs & SMEs located in the MENA region save time and money while managing business financials.
Debito is an online platform helping its clients manage credit in a traditional grocery.
Fine Posture is a solution aiming at building a wearable posture correction device to help customers maintain healthier posture habits.
What is the Summit About?
The Seedstars Summit MENA will be divided into three core sub-events - private bootcamp and the Investor Forum on December 10th and 11th for the Seedstars startups and invited investors, and the actual Summit day, open to all the participants willing to join the MENA tech community on December 12th.
The event will be focused on finding the answer to the question "How will technology shape our future?" Together with our speakers, attendees will have a chance to learn and explore investment opportunities, the latest trends, and business cases. Alisée de Tonnac, the founder and CEO of Seedstars, will open the Summit and give her keynote speech on the global development and impact investing in the region. To get your ticket to the event, please visit the page.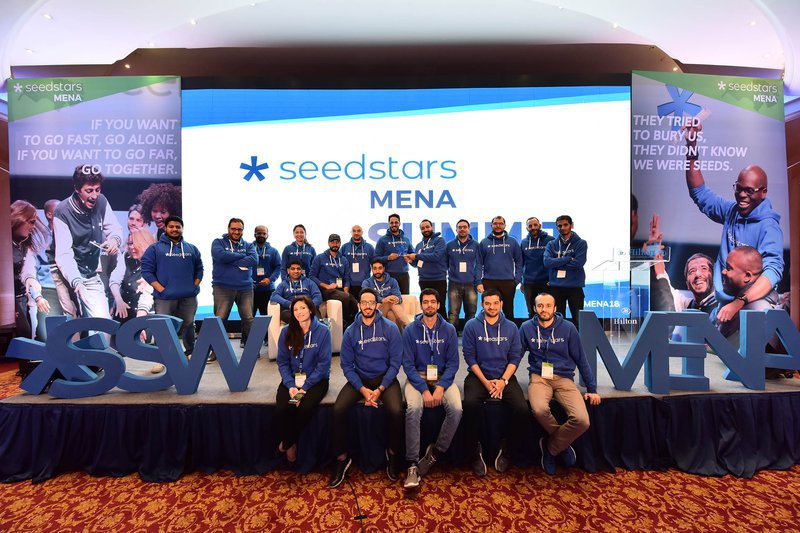 Selma Bennis, Head of Partnership and Strategy, OCP, Rami Helali, Co-Founder & CEO, Kotn, Saad Jittou, Co-Founder & CEO, Weego, Adnane Addioui, Ashoka Fellow and Co-Founder of the Moroccan Center for Innovation and Social Entrepreneurship, Sophia El Bahja, Executive and Operations Director, NoBox Lab, and many more have already confirmed their participation as speakers of the Summit.
The event agenda is packed with networking activities, workshops and panel discussions on rising trends in tech and entrepreneurship in MENA and successful scaling strategies. The wrap-up of the Summit will be an award ceremony where everyone will get to know the names of startups heading to Switzerland in April.
Among the companies and institutions that help make the Seedstars Summit MENA 2019 possible are Mada, Qbic, Kowork, Arabnet, France 24, MENA TECH, Morocco World News, and STARTUP MGZN. If you want to become a partner of the Seedstars Summit in Morocco, please send us a request at summits[at]seedstars.com.
If you are interested in the media partnership, contact our Media & PR Manager Laura Songue at laura[at]seedstars.com.