The pandemic put African's show in a pause. The continent was catching up with the rest of the world, in a road leading to economic success but the pandemic is now threatening the economic development of the region.
From the beginning of the pandemic, African countries have been reporting low numbers of infections and fatalities. Underreporting of numbers doesn't seem to justify the stats, but a relatively young population, experience with dealing with other infectious diseases, and low traveling rates seem to explicate the numbers, all despite the continent's scarce health infrastructures.
But this is not to say Africa is passing through the pandemic unchallenged. A paper by the United Nations Conference on Trade and Development predicts a decline of -1.4% in Africa's income as a consequence of the pandemic and a significant decline in total exports of -16.7%, on average, in the worst scenario. With most of the West under strict lockdowns, Africa has been hit by a reduction of exports, a transfer of tourism to other locations and a cease in investment (both internal and external) in light of uncertainty.
Such points will have a significant social impact in the region, starting with the job market, highly reliant on informal workers. Just in South Africa alone, as of July 2020, 3 million people had lost their jobs as a consequence of the pandemic, with two million of those being women, according to a study from five South African Universities. 80.8% of jobs in urban Africa are in the informal sector, according to data from the World Bank, and out of this, in sub-Saharan Africa, 92% of those workers are women. Less protected by working regulations and work agreements, these workers are the first ones to be let go.
The pandemic will exacerbate pre-existing inequalities, with clear contrasts between urban-rural areas, but also between men and women. A region where poor living conditions subsist and where access to school and education is still deficient. But it is for sure a region not empty of innovative ideas, forward-thinking entrepreneurs, and great possibilities. And it's for that reason that Seedstars is happy to be presenting the Seedstars World Competition 2020/21 local winners for the Africa region.
Edtech
In the context of the pandemic, having reliable, cost-effective, and efficient quality online educational platforms is crucial. Fostering education by means of providing equal access to quality education is now more important than ever. With that objective in mind, AUGUSTINE SAFFA YARJAH MATTURI from Sierra Leone created OPower Sierra Leone, an e-learning system that blends both radio and TV, online and offline learning.
Also with the intent of easing the access of students to knowledge and experience, Phenomenon Technologies (Home of Sciency) created Sciency, a portable science lab for science students that works on a smartphone. The Sciency app utilizes augmented reality technology so as to provide an in-depth laboratory experience for learners. Students download the app that gives them access to science models they would normally find in a school lab. In essence, this means that no matter where the student is, they can project these 3D models onto their environment and immediately learn in an immersive manner - schools in rural areas of the world that will hardly have any lab resources, would now simply need a smartphone to gain access to all science models students need to comprehend science.
"Africa has a shortage of 1 million scientists and more than half of the global population growth between now and 2050 is expected to take place in Africa, according to the United Nations. Youth within the continent will need relevant skills – particularly those in STEM – to support that level of growth in a sustainable way. Our startup helps bridge this gap by making it easier for more students to pursue STEM-based subjects'', says Nkosana Masuku, the CEO of the company based in Zimbabwe.
The Zydii team
Before the pandemic, in-person training supported by digital learning was the norm, while in present times, in-person training has mostly disappeared, with digital learning and virtual training taking its place. But companies in Africa still lack a platform and content that is locally relevant. Zydii, from Kenya, has developed an end-to-end digital learning platform to help African businesses affordably up-skill their teams by leveraging offline learning as well as "local for local" relatable courses. By providing a solution for the region's market, the company led by Joyce Mbaya hopes to impact millions of SMEs and employees across Africa, who will gain the knowledge and skills needed to improve their livelihoods and succeed.
Enterprise Tech
In the current context, reducing the number of physical interactions between people is encouraged. Restaurants are locations known to involve frequent interactions between customers and waiters, and cutting those to the minimum may come as an added solution to curbing the spread of the virus. Octan Group, from Rwanda, lays on the table its Aros (Automated Restaurant Ordering System), a modern restaurant application that automates meal ordering and tracks services in a restaurant. The process wants to bring simplicity, transparency, and accuracy to the customers' experience.
Ecosystem Enabler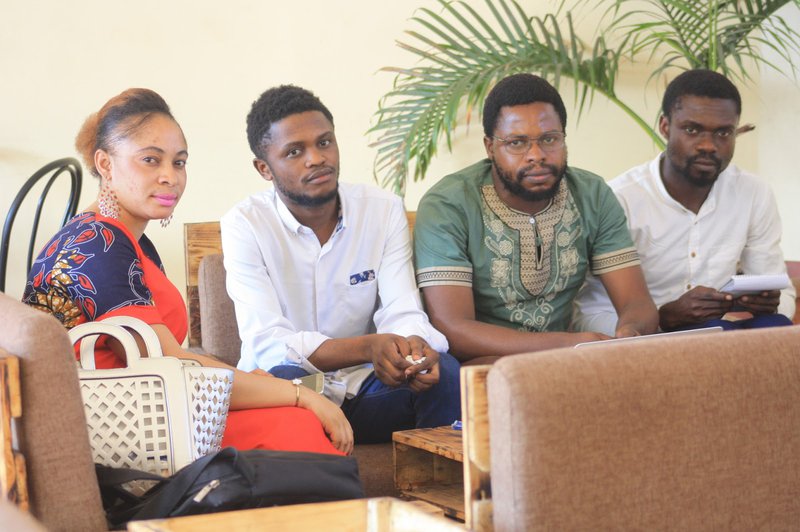 In Africa, SMEs and project holders are faced with difficulties respecting lack of financing and hard access to conventional bank loans. These issues jeopardize their chances of evolving and surviving. Wanting to address those obstacles, Astech-Congo created UMOJA Funding, an African crowdfunding platform. Beyond offering an alternative to traditional finance, UMOJA FUNDING is a place for exchange, sharing, and solidarity between a community of contributors and project leaders in several sectors.
The platform, based in the Democratic Republic of Congo, offers different forms of financing: donation, a loan with or without interest, or capital investment. But the platform doesn't just serve businesses: "we provide direct support to individuals, families or communities by paying medical expenses or offering financial assistance. We also raise funds in response to natural disasters or humanitarian crises, on our UmojaFunding platform, and have established a school monitoring platform, Shule Online, which contributes to the development of children by facilitating exchanges between teachers and parents", says the founder Didierson Amuri.
Enterprise: Enterprise Mobility
Ridelink from Uganda is re-imagining how SMEs move their goods from place to place by leveraging technology to offer them safe and affordable logistics solutions. Through its online and offline (via SMS or phone calls) fully integrated transport and logistics solution, the platform connects enterprises to a pool of highly professional drivers at an affordable price. The company, headed by Daniel Mukisa, aims at cutting the cost of transport and logistics: SMEs, for example, spend almost 40% of the final cost of goods on logistics. Inefficiencies in the process have increased the cost of doing business, stifled business growth, and disadvantaged SMEs from breaking into new markets, all of which Ridelink hopes to help overcome.
Health
With a population of over 109 million people, Ethiopia lacks the hospital capacity to attend to all patients in a quality manner. On the other side, more than 3000 medical students graduate every year from medical schools. Therefore, Rohobot Home-Based Health Care Service PLC came up with a solution that enables patients to receive the right care and support at the comfort of their homes with skilled and trained health professionals. The solution not only democratizes access to quality and certified health services but also created job opportunities for over 400 health professionals, 80% of which are women. In Burundi, HMO Healthcare4All is also concerned with healthcare accessibility for all. The organization created a new strategy with Primary Care Physicians (PCPs), to help each family with desk-information and treatment options for Non-Communicable Diseases (NCDs) - which need to be treated quickly. However patients are coming to hospitals with severe clinical status, either because they don't own healthcare insurance coverage or simply because they live in remote or poor locations, and HMO Healthcare4All, headed by SUDI NDIKUMANA, wants to bring help through Referral Hospitals before these diseases reach their complicated phases.
In a time of technological dominance, a person living in a village in Africa should have the same level of access to basic healthcare as someone living in the West. It's with that ground motto that Innovarx Global Health is on a mission to become that access equalizer, providing quality healthcare services powered by technology and accompanied by the delivery of medications. Based in Gambia and led by Ismail Badjie, the company believes to be in a position to leverage technology and democratise quality healthcare services rooted in disease prevention, quality medication and increased access to trained professionals regardless of location.
And what if you could change people's lives using trash? Based in Mozambique, the winner BioMec is impacting lives by transforming plastic residuals (PET bottles and ghost fish nets) collected from the sea and using 3D printer technology to turn them into bionic prosthetics. More than 90% of amputees in Mozambique don't have access to prosthetics, either due to their high prices, long time taken to obtain them or even because they lack access to healthcare in general. "We create impact by reducing the costs of having prosthetics, creating an easier and better access to the product. We're transforming waste into life-changing products that will make people feel and experience life with potential and increase their productivity and self-esteem", says CEO Marta Vânia Uetela.
Consumer Services
RESERMAR Reservas Online was born in Cape Verde by the hands of Yancey Heredia. Through their online platform, suppliers, service providers or general customers will find an easy and quick way to reach points far from their location or larger markets to conduct their businesses. The company promotes a wide variety of reservations, from air and sea tickets to personalised vacation itineraries or medical appointments. "By stimulating the offer of products, goods, and services, we generate benefits at the capillary level in the entire value chain: in individuals, families, and communities, who, once economically empowered, align themselves with states of happiness and goodness, therefore increasing the general spending and the need for further travel consumption and interpersonal relations'', says the CEO.
From Angola, the winner Socia came into the game to increase the purchasing power of families and create new market opportunities for their suppliers. Socia is an e-commerce platform where users can buy products in retail quantity and pay for the product at its wholesale price. They are increasing the purchasing power of families, through a process where all orders are grouped to increase the purchase volume and get the best prices from suppliers. With this platform, the company managed by Augusto Firminno not only generates indirect jobs, through their network of agents, but they also generate a great impact for small farmers, who do not produce enough to sell to supermarkets.
FinTech
In the field of FinTech, BrilliantTs Africa Ltd [a.k.a C32] brings a mobile-only digital banking and payment wallet app targeting the underbanked and unbanked. Globally, 1.7 billion adults lack a bank account. In Africa, Asia, and Europe, up to 2.3 billion adults are financially excluded and the global average cost of sending money overseas is 8%.
"We've developed a futuristic real-time blockchain payment solution that reduces the cost of global remittance from that average to 1-3%. We want to close the widening economic inequality, delivering unique wealth creation opportunities and tools to communities. Our banking products will help the unbanked and underbanked population to be economically successful, and fundamentally change the way communities perceive, talk about, and handle money", says founder Prabhu Moorthy, from Mauritius. On its working towards the community, the company has voluntarily pledged to channel 5% of their business revenues to Impact Lending Fund Pool (ILFP), whose purpose is to offer interest-free productive lending to SMEs.
For the first 5 years of her career, Oluwatosin Olaseinde wasn't saving or investing as she couldn't find a company in Nigeria that would teach investments simply so she started Money Africa, a financial literacy EdTech platform with over 200,000 members, to stir financial literacy. After the education, there is a need to implement know-how and so she has built Ladda. The platform is creating micro-investment opportunities backed by financial literacy, a one-stop investment platform as it has savings options, mutual funds, local and global stocks, all in one place. "We can help people achieve financial independence by playing the long-term game. Personal finance is 80% mindset and 20% knowledge. We equip people with the right resources and tools to achieve it", says the founder.
HR
Today, the unemployment rate in Senegal is estimated at 48%. A very high rate in a market where the number of graduates is on the rise. Keys Job noted that the problem lies in the absence of tools for training schools to monitor the professional integration of students and graduates, jointly with a lack of information on jobs that actually exist for students. Therefore, the founder Makhmoud Camara and his team went on to create a recruitment platform that offers, for example, a series of videos on the daily life of jobs, providing answers to young people's questions. In addition, Keys Job is the only platform in Senegal that holds an applicant tracking system and offers a free career platform to training schools. All to increase the chances of young professionals entering the job market with fitting training for their desired fields.
On the tech side of HR, Dial-a-skill from Botswana is an on-demand informal 'labor to market' connectivity platform. The company recognizes that the informal economy (informal workers and informal service providers) is currently disconnected from markets and excluded from the benefits of the formal economy. Moreover, the informal economy exists in almost complete data darkness from public policymakers and the digital economy. The goal is to build a digital bridge for the informal economy that will allow them to access markets, fair labor practices, and financial services.
Tech: Internet of Things
Are you often too busy multitasking and overwhelmed with tasks in a way that you can't do the really important stuff? We have all been there! With TaskedApp, you can delegate those tasks to talented freelancers, allowing you to focus on other core functions, all at a price you agree to pay. The company from Namibia and headed by Nuno Pereira is solving two problems: on the client-side, individuals and businesses lack the time to focus on what is important to them due to the high volume of tasks they need to complete, and TaskedApp gives them the ability to delegate those tasks. On the freelancer side: Africa is thriving with talent and TaskedApp provides these talented people with the opportunity to make a living through freelancing, empowering them by doing what they love.
AgriTech
The whole agri-supply chain in the developing world is marred by various issues related to child-labor, deforestation, quality control, and unfair payments. The current way of working is not solving these problems because there are scarcely any traceable solutions. 40% of Sub-Saharan businesses rely on agriculture but few understand how not paying or treating the farmers fairly not only affects local communities but the whole global society.
Capture Solutions, the winner from Ivory Coast, provides reliable digital verification and traceability tools to ensure fairer, more ethical supply chains and international operations. They exist to ensure ethical standards are upheld, and the transparency and accuracy of products are traceable, from source to shelf. The ultimate mission is to ensure a better future and a fairer share for all.
"We work globally, to help the most remote parts of the world access technology that helps improve lives and livelihoods. Indirectly, Capture Solutions works towards no poverty, by providing more to the farmer and making sure he gets remunerated fairly, fostering decent work and economic growth - thanks to our added services, we make sure that kids go to school, providing a time and attendance system for schools close to the farmers. We also provide financial services to make sure the farmers get bankable, allowing him/her to grow with time.", says Lorenzo Boncompagni, the CEO.
On the environmental side, the company makes sure that whatever is collected is not within forest areas and that any production uses the right kind of fertilizers (when possible, Biofertilizers), while supporting a parallel solution for reforestation.
All the featured companies are governed by men and women willing to make a difference. Through their inventive ideas, hard work, and belief, they change the life of individuals and businesses, in rural or urban areas, by promoting employment, access to quality healthcare and education, fairer earnings, advocating for financial education, while making them visible to policymakers and markets. These are entrepreneurs that never give up until they find a solution to whatever problem concerns them. And they systematically find solutions. And this is what makes them winners.
25 startups from the Africa region will compete to represent their country at the Regional Finals. Tune in on March 1 to catch these innovative startups go head to head in the Seedstars Regional Stage. Follow Seedstars on Facebook to watch the broadcast online.