We travelled to Morocco at the beginning of July 2019 to conduct further research on the Moroccan entrepreneurial ecosystem and to bring closer its various stakeholders. What we discovered was unprecedented for such an early-stage market and we left certain that investing in Morocco will bear its fruits in the not-so-distant future. There is, however, work to be done at the level of policies, corporate mindset and startup development. In this report, we will discuss the outcomes of a session held together with representatives from Moroccan corporates, startup incubators, management consultants and entrepreneurs.


Understanding the Context
If there's a sentence that we heard repeatedly during our stay in Casablanca, it was "in Morocco, things work differently". While, on a superficial level, one could argue that it's a sentence that can be applied to any context, we were soon to realise what this really stands for: Morocco's business environment is highly dependent on domestic regulations which determine the international expansion a Moroccan company may have, such as sending and receiving money from abroad, as well as general exposure to international competition. This brings many potential entrepreneurs to give up before even trying to set up a new venture.
Participants at the official opening of Seedspace Casablanca, an entrepreneurship hub by Seedstars, in June 2019.

One of the main government's objectives for entrepreneurship is the creation of new jobs in order to increase the country's economic growth (expected to be at 3.2% according to Reuters) and tackle the unemployment issue (9.8% in 2018, according to the same source). In fact, with the much-discussed new development model in mind, in an opening speech this October, King Mohammed VI called for enterprises to support the efforts of the new government, and he urged the private sector to play its part in going forward with Morocco's new development model.
King Mohammed particularly highlighted the role of banks as the sources of loans and investment packages: "Implementing projects and decisions, and ensuring follow-up to them, involves more than just the signing of contracts and agreements. It is, above all, a moral contract involving reason as much as conscience. This is a matter of shared responsibility for all concerned stakeholders. Each party is duty-bound to fulfil its obligations and honour its commitments."
There are several ongoing initiatives in Morocco, both domestic and internationally sponsored, and some of them are listed below:
The Investment Readiness Program runs at the Seedspace Casablanca, opened in June 2019.

Other organisations providing acceleration or incubation to early-stage startup are:
Moreover, organisations such as OCP with its Entrepreneurship Network Foundation are supporting the education, formation and R&D with the aim to improve Morocco's economic sector and create new sustainable employment opportunities. Together with Avito and Kowork, they are the supporters of the Seedstars World competition, which happens every year in Casablanca. In addition, the city has been chosen to host the 2019 edition of the Seedstars Summit MENA, gathering the most promising startups from the region, winners of the respective local competitions.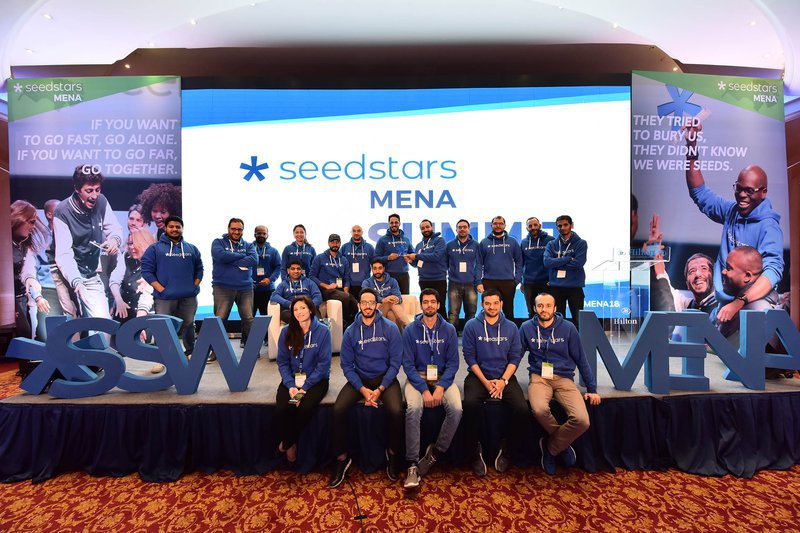 This year's Seedstars Summit MENA will be organised in Casablanca on 12 December.

Another opportunity entrepreneurs can take advantage of is CCG, which is one of the 16 local incubators approved by the Moroccan authority. They offer funding of up to USD 70,000 for business ideas, which is distributed in two parts. The first part is a USD 20,000 grant (Innov Idea) for the MVP development, and the second stage is an additional USD 50,000 which comes in the form of an interest-free loan (Innov Invest).
However, as stated in an article by Wamda, "[...] offering funds is not enough. A quick look at MNF results proves that young entrepreneurs need mentorship and follow up more than funds. The digital economy startups need incubators, technological hubs, and accelerators, to become a vector of social and economic improvement."
Besides this, there is also the challenge of establishing cooperation between startups and corporates because corporates are not very eager to get involved with organisations that they deem unsustainable or not qualified enough to deliver the results. Even when there is a convincing startup, the due diligence processes investors and corporates put them through can take up to a year, blocking the development of what could be a fast-growing business. Startups can drive innovation and disrupt old bureaucratic processes, but as long as they encounter bottlenecks like this, they will not be able to fulfil their full potential.
The Seedstars Summit MENA brings together startups, advisors, mentors and investors in a new city in the region every year.


Lack of Data and Role Models
It became clear to us, from our roundtable conversations, that one of the main reasons for these bottlenecks is the lack of specific information, such as examples of successful startup-corporate collaborations. On one hand, startups are not aware of what drives the innovation agenda of corporates as this type of data is usually confidential and not easy to access. On the other hand, corporates are also unaware of early-stage startups that could potentially be a good fit for delivering on their innovation objectives. There's a clear communication breakdown between the two worlds.
Moreover, there doesn't seem to be a clear mapping of the competitive landscape. With no visibility of the market and its real needs, companies aren't able to anticipate the need for innovation nor identify the opportunities for developing a business. In order to bring more clarity to this opaque market, it is crucial for startups and corporates to join forces and compensate for each other's strengths and weaknesses.
The Seedstars Summit MENA is also a great occasion to tackle topics relevant to driving innovation and technology in the given markets.


Power Distance and Mentality
Another very important reason for these challenges is power distance between startups and corporates. It is not unusual that the startups are stereotypically seen as unstable businesses delivering low-quality work, which leads the corporates to believe that they can do the job better with their own resources. In some other cases, startups can be perceived as the disruptors of well-established business models, which aren't fully caught up with the current digital and technological trends.
Additionally, getting ahold of the decision-makers in a big corporate can be extremely difficult for a small startup, unless it has personal contacts or recommendations. In addition, even if a startup manages to establish contact with high-level executives of a corporate, factors such as exclusivity, competitive advantage, sharing of confidential information and security will often lead the corporate to refuse collaboration.
An interesting suggestion brought to the table mentioned the establishment of the position of Head of Innovation for corporates that don't have one yet. This person would represent clear interests of the company to pursue projects that would support startups and could bridge the gap between startups and C-level executives of corporates. However, where there isn't such a person, it's very likely that the company doesn't allocate the necessary resources for innovation projects at all. Therefore, the only way for a startup to pitch to the company is to go directly to the CEO because that's the person who can decide whether to work with them or not.
The Seedstars Summit MENA allows for young entrepreneurs to meet with potential investors in 1:1 sessions.

Talent Search and Brain Drain
Speaking about talent, Morocco's human resources are at risk of significant brain drain, a widespread phenomenon in emerging economies during which large amounts of the highly-educated population leave the country in search for better job opportunities. According to the 2019 Fund for Peace Fragile States Index (FSI), Morocco ranked 78th most fragile out of 178 countries with a total score of 73 points. The score puts Morocco in the "elevated warning" zone.
This presents a problem not only for the corporates but also for startups looking for young talent to join their companies. Moroccan jobs website Rekrute said that 91% of Moroccan professionals aged 35 and younger are interested in working abroad to secure better work conditions and quality of life. The minister of national Education, Saïd Amzazi, revealed that more than 600 engineers leave Morocco each year to pursue career opportunities abroad.
If these figures don't drastically change in the upcoming years, Morocco risks facing serious problems filling important positions in the tech field, such as engineers, developers and digital experts. Consequently, this may impact the growth of promising startups who aren't able to find suitable candidates domestically, as well as become a bottleneck for corporates trying to recruit for their innovation projects.
By educating the local youth for entrepreneurial skills, we create the best chances to fill the jobs of tomorrow.

Success Cases of Entrepreneurship in Morocco
To break the stereotype of startups being doomed to fail, we bring you some examples of businesses that made it happen.

Hooplacar
Collaborative media Hooplacar operates in the urban mobile display sector through the wrapping of specific motorists' vehicles. Individuals can register through Hooplacar's platform to carry ads for the startup on their car, and in return, the drivers are paid a monthly fee ranging from between 1,000 to 1,500 DH. Only one year after winning the local Seedstars World Casablanca competition 2017, they reached the threshold of 6,500+ drivers on their platform.

Weego
The Moroccan startup Weego provides information on the best public transportation routes from point A to B using real-time information on schedules and traffic. Weego was the winner of the Seedstars World Casablanca competition in 2018. As Saad Jittou, CEO and Co-Founder of Weego, recalls his experience with Seedstars: "My experience at Seedstars was game-changing. Winning the competition even gave me the chance to be on the cover of my favourite magazine".
Last year's Seedstars World competition in Casablanca was won by Weego (source).

DabaDoc
DabaDoc is a technology company which helps patients across Africa find the right care with simple, yet powerful, technology solutions. It allows its users to find a doctor and book an appointment online based on your needs. Founded in 2014 by Driss and Zineb Drissi-Kaitouni, it received an investment round in April 2018 by the AXA Group, a French multinational insurance firm that focuses on global insurance, investment management, and other financial services. It is currently present in Morocco, Algeria, Tunisia, Nigeria and South Africa.

Kifal Auto
Kifal Auto is a renowned Moroccan marketplace to buy and sell second hand/used cars. Before being put up for sale, all the cars are checked by car experts to ensure that the cars are in good shape and have no hidden defaults. Kifal Auto was able to sell 70 cars in one year and has just signed a partnership with AXA. They are also the winners of Seedstars World Casablanca 2019 and will participate in the Regional Summit Casablanca this year.
Pitching competition during the Seedstars World Casablanca 2019 (source).

SIBI Evo
Sibi Evo took second place in the Seedstars World Casablanca competition this year. They provide an expanding number of business solutions, where users are free to transform and customise their software, which solves the problem of the typically costly services for business development. Sibi Evo is a synergy of best practices from multinational companies coupled with the best practices from consulting, and it produces tools that adapt to your requirements and open new horizons.

Userguest
Userguest displays a series of customised smart notifications to each visitor of a hotel's website, to increase the conversion from users to the guest. The goal is to help hotels increase their online revenue by using messages powered by an algorithm and AI to match the user's booking intention. They have managed to increase booking by 20% in the hotels with which they work in Morocco and South East Asia.
The last edition of the Seedstars World Casablanca took place on 11 September 2019.

Booming Sectors in Morocco
Morocco is the most competitive economy in North Africa, according to the African Competitiveness Report 2014-2015 by the World Economic Forum, and the 5th African economy by GDP. The biggest sectors are represented by services, such as tourism and telecommunications, and by industry, such as mining, construction and manufacturing. However, the country is still highly dependent on agriculture, which employs almost half of the Moroccan population but accounts for only about 14% of GDP.
Tourism is also one of the main driving forces of economic, social and cultural development in Morocco. The Ministry of Economy, Finance and Administration Reform has committed to the Vision 2020 with the objective to make Morocco one of the 20 great world destinations by 2020 by doubling the size of the sector and the accommodation capacity. Based on this 470,000 new direct jobs will be created across the country and tourism revenues should reach 140 billion DH by 2020.
Another important economic sector is renewable energy, which has produced 35% of Moroccan electricity in 2018 with an installed capacity of about 3,000 megawatts, according to the Minister of Energy, Mining, and Sustainable Development Aziz Rabbah. "The kingdom aims to produce 52 per cent of its electricity mix from renewable sources by 2030," claims this Morocco World News article. The country has also invested in building the biggest solar station in the world, currently in construction in the south of Morocco, called Noor Ouarzazate Solar Complex. It covers an area of 680 hectares.
The Noor II and Noor III plants combined will help offset 533,000t of CO2 emissions a year (source).
Phosphate, a natural substance found in great amounts in Morocco, is the main exported good, contributing to a significant portion of the country's GDP. The OCP Group, one of the leading exporters of phosphate rock, phosphoric acid and phosphate fertilizers in the world, plays an important economic and social role in Morocco and is actively investing in innovation initiatives such as the brand new Mohammed VI Polytechnic University Benguérir campus and the Innovation and Entrepreneurship Lab.
Lots of attention is also dedicated to CleanTech. This is done through organisations such as Cluster Solaire, which supports green energy companies across Morocco and the MENA region in their effort to design new technologies that reduce carbon emissions and preserve the planet. Green Business Booster is another organisation working in the field aiming to accelerate the marketing of companies developing innovative products or services operating in the green energy sector.
We also see a big growth in specific economic sectors that are driving innovation further and breaking the cycles of outdated practices. Examples of this are the automotive industry, with PSA setting up a park in Kenitra, and the train company ONCF working with Atos on the high-speed train, inaugurated in Northern Morocco in November 2018.
The Al-Boraq high-speed train travels at 320 km/h and is operated by the ONCF (source).
Additionally, big investments have been made into Morocco's port systems, transportation and industrial infrastructure to better position the country as a business broker to the African region, consequently improving its competitiveness. Of course, tourism plays a big role in supporting the transportation sector.
All these different examples show how innovative technological ideas can help advance the existing sectors as well as drive the creation of new startups. It also goes to show that currently in Morocco there are many opportunities for collaboration between startups and corporates.
Bringing About Change and New Practices
When thinking about the solutions to the challenges discussed in this article, we can't stress enough the importance of collaboration of all the different stakeholders involved in the innovation ecosystem, whether through entrepreneurship, incubation, consulting, policymaking, educational institutions or corporates. We strongly believe that each group plays an important role in creating change at different stages, from the moment of ideation until investment.
For this purpose, the participants of our roundtable have come up with a series of suggestions aimed to shake things up and, hopefully, lead by example.

Education & Training
One of the main issues identified during the brainstorming session was that startups often lack soft skills such as pitching, which are essential for communication with C-level executives. Besides this, sharing success stories, best practices, mistakes and learnings would be extremely beneficial for any founder looking to secure investment.
StartUp Maroc Roadshow organised at the Université EuroMed de Fès (source).

Stakeholders Joining Forces
Another point raised during the sessions was related to setting up an entrepreneurship association as a means to create a wide network for all the different types of stakeholders. Personal connections are priceless in an ecosystem like Morocco and the best way to create them is to be introduced through mutual connections.

Data Access
Probably one of the most radical measures would be to break the mentality of secrecy and transition into the culture of sharing, especially when it is about valuable market information, which seems to be scattered around and very difficult to get one's hands-on. However, this lack of trust, partially due to the local culture, is deeply established in the ecosystem and requires strong first-movers who aren't afraid to take such a risky step forward.

Opening the Doors to International Markets
Last but not least, one of the greatest challenges of any Moroccan business is to expand abroad. Due to legal and fiscal policies, startups are allowed to international transactions of only up to USD 50,000 per year, while technologies such as blockchain are not allowed at all. This brings a big cashflow obstacle for Moroccan startups trying to scale through expansion abroad. A suggestion for the short-term could be to implement stock options even for early-stage startups, though long-term solutions are at the policy level and can be reached through lobbying and amending.
MIT REAP Team Morocco during the Phosphate Hackathon in 2017 (source).

Final Thoughts
In general, we observed that there is a strong willingness to change and to grow. It can be confidently said that Moroccans are very eager to bring out their full potential and step up their game, including on the international level. Nevertheless, achieving the desired change will require strong leaders and the support of the public institutions. Finally, the underlying solutions must be about people, such as increasing the quality of life, providing more job opportunities and allowing for innovation to thrive.
More suggestions apply to the decision-makers providing financial incentives to corporates for collaborating with startups. There is already strong financial support provided to startup incubators and accelerators, so the next natural step should be to bring the big and the small players to join forces. It is through this collaboration that startups and corporates are going to be able to positively influence Moroccan economy, not only by creating new jobs but also by modernising and digitalising old-fashioned institutions and driving the innovation agenda.