What is the value of a pill? Life. Medsaf, a medication marketplace for hospitals and pharmacies, makes sure that people in Nigeria have access to quality medication and in this way, helps save thousands of lives across the country. Medsaf became the winner of the Seedstars Malaria Challenge, supported by the Bill & Melinda Gates Foundation at the Seedstars Summit 2019, and we had a chance to talk with Vivian Nwakah, Co-Founder of Medsaf about their aspirations and plans for the future.
What is the story behind Medsaf? What triggered you to start your business in the healthcare sector in Nigeria?
I was born and raised in the US. My parents left Nigeria in the seventies, and I had never been to Nigeria before. I had a promising career path in the US; with my last big position being in a healthcare startup. At that time, I decided to go to business school and gain a few more skills to bring back to the company. I went to a special business program where I studied in Paris, Rio de Janeiro and Atlanta. This opportunity allowed me to travel around the world. As I was travelling around all of the different countries, I made up my mind to land in Nigeria where I did my internship to explore the country's culture.
As soon as I got to Lagos, I realized how many problems Nigeria was facing, but I saw those problems as opportunities to provide solutions to the people. During my second month in Nigeria, one of my friends died from taking a fake malaria pill. This opened my eyes to this particular healthcare challenge, and from that moment on, I have been going through the journey of understanding more about the healthcare industry in the country.
I started with testing out ideas and applying different approaches aimed at making a difference in the space. That's where the concept of Medsaf was born. I was passionate about fixing this problem, and I realized that no one else in the market was tackling this issue. So, I accepted the challenge.
In the beginning, it's always a bit of a struggle to choose one focus and not to be tempted by the variety of approaches and tools you can apply to address this specific problem. How did you come to the idea that you wanted to build a marketplace for Africa's hospitals and pharmacies?
So at that time, I saw all of these technology companies disrupting different industries using the platform, but no one was using it for healthcare. I thought: "What if we could build a marketplace where we can connect the manufacturers with the hospitals and pharmacies meanwhile ensuring quality control? What if we can make sure that every single product that we get from a manufacturer is produced according to the correct standards?"
But at the same time, I knew we could also do other things. We could help decrease the costs of medications, and we could also be an outstanding service for hospitals and help reduce their work and streamline their operations at large. It was an idea that could have a massive impact on the industry; while also making everything possible offline.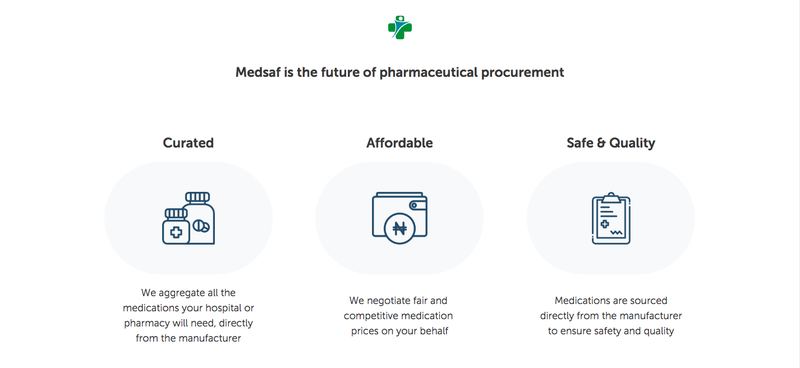 What do you consider your most significant ''Yeah, we did it''? Maybe you can share some of your key numbers and impact?
One big thing is that we raised 1.3 million dollars in the market. It's going to help us hire new people, procure medications, get a better warehousing space, etc. I think that for any African startup raising a significant amount of money is not easy, right? So it's already a significant achievement for us. Our second big victory was getting some of the largest hospitals in Nigeria to become Medsaf clients.
Right now you are number one in the Nigerian market. Do you plan to scale your product to other countries?
Yeah, absolutely. It's an issue in many emerging markets, so our solution can be taken to many other countries and solve this chaotic medication distribution problem. From the very beginning, we tried to build our product with the plan to expand to other countries in the near future. We already identified partners and have made some announcements . So, it's more about our desire and the resources available to us for expansion in the markets where we have reliable partners. But currently, we decided to focus on capturing the Nigerian market. It's one of the most difficult markets. If you can achieve it in Nigeria you can achieve it anywhere!
Is there any specific challenge that you face right now and how do you think this challenge can be tackled?
Finding the right people. As long as we are funded and continue to be supported, we are starting to get more and more people that share our vision. We welcome in our team anyone with a profound experience in other industries, including professionals from other countries. Malaria is a huge problem; thus a great diversity of ideas and backgrounds is needed to get the solution off the ground.
Is there any particular story or case where you or your team made a mistake along the way, and then you learned a valuable lesson from it?
We generate a lot of ideas at Medsaf, both successes and failures. I would say that learning a lesson is more about us trying different things in the past that didn't work, but we always were able to look back at the business and say: ''Wow, that actually could've worked if we had tried XYZ''. So, I think it's all about keeping an open mind to learn and experiment. We try something and fail, but we always keep it moving and continually review our status.
What would be a success for Medsaf?
Success for Medsaf is when we can say that we are set up successfully, not only in Nigeria but in other markets impacted by the negative experiences with non-quality medications. Also, that we inspired other entrepreneurs to accept the challenge of fixing healthcare systems in African countries.
Do you have any favourite companies that you always follow and try to learn from?
Netflix. I remember ordering from the Netflix, getting a CD in my mailbox and thinking "Oh, wow! Before I used to go to Blockbusters but now I can order a movie, and it can end up in my mailbox". I don't even watch TV anymore. I only watch Netflix. So you can see how in a bit more than a decade, the company has changed the behaviour of millions of people. It completely changed the landscape. So I want Medsaf to be like that. I want Medsaf to be the Netflix of healthcare.
Could you share your impact behind the numbers, a story that inspired you the most?
One of our first customers, Dr. Ngozi Onyia, was working in the corporation for many years. After the death of her daughter, she started Paelon, a multi-specialist boutique hospital. I remember that in the very beginning, we would go to all these hospitals, and it was challenging to get anyone to listen to us or take us seriously. But when we met Doctor Onyia, she believed in our vision, our future and she made a bet on us. She became our first customer in January 2017.
Doctor Onyia is someone who changed her life course and chose to help others. It's really an inspiring story. A lot of our customers could be anywhere in the world right now, in the US or UK, but a lot of them are working extremely hard in Nigeria to push forward the healthcare industry here.
What does the victory in the Seedstars Malaria Challenge mean to you and your team?
It's a great achievement for us. Interestingly, two years ago, before I started the company, I sent a message to the Bill and Melinda Gates Foundation. I found out that the Foundation was supporting initiatives like Medsaf and ensuring that people have access to quality medication. Unfortunately, I've never got a reply. Now, a couple of years later, our business won the prize from the Bill and Melinda Gates Foundation around the same issue. It's very...very exciting