In this blog post, I will describe our experience at Seedstars, how we defined the values that drive us, how they impact our culture and help us take the company forward.
Weave your values into everything you do
Our values are visible in everything we do. To make it even more understandable to everyone who joins the team, we have a real life example of a behavior of a team member when she showed that value. We believe real examples help everyone connect and understand what every value means.
Your beliefs become your thoughts. Your actions become your words. Your words become your actions. Your actions become your habits. Your habits become your values. Your values become your destiny. — Mahatma Gandhi
We, as other companies hire, promote and let people go based on how they live the values and the organization.
Our employee recognition is also values based. We have a slack bot (thanks growbot.io) that every employee can use to send instant appreciation messages to a colleague. The recognition messages are automatically posted in the #general channel. All the messages are public.
Here are our seven values followed by a quick explanation:
Keep it simple, move the needle, no excuses culture
We are data driven in everything we do, always anchor decisions in data, run experiments
Tribe of like-minded individuals, we are here to change the world, everyone is responsible for their part but colleagues are always available to help (even when it's not their focus area)
Be comfortable in being uncomfortable, strive to learn something new every day, try different things, connect to different people
Profit is what keeps us alive, focus on the solution that makes a difference without many resources
Find creative ways to solve problems
Deliver on time and focus on quality in everything we do
How we apply our values in real life
We connect examples of behaviors to each of our values, here are some examples that are part of our internal documents:
F&B and payment process: Clement and David D who challenged the supply costs in one of our Seedspaces quickly organized and automated prepayment and order processes to reduce bad payments and human mistakes.
Data driven credit recovery: David C and the QuickCheck team set up and experimented a systematic call script. By experimenting and improving the script based on data from real customers they brought the gross profit to positive.
Step up when something does not feel right: Fernando stepped up in a product meeting, even if it was not part of his job description because he felt problem-solving was getting too complicated and he was concerned we were not using the resources correctly.
Outside of the Comfort Zone
Acquisition to growth: Joy goes far beyond acquisition and gives a hand to the growth team in all projects where she works.
Focus on what moves the needle: Luis shipped a version of QC mobile app in 4 days, it was ugly and had some bugs, but it was enough to test if there was a market and start collecting data about the cost of acquisition.
Cold calls: EP team, found a way to hack their growth (instead of investing in expensive marketing). They got access a list of car owners with phone numbers, emails and vehicle details. With this list, they created a repeatable and scalable call script that gave them 20% conversion of all people contacted.
Quality and attention to detail: Katarina's approach to building our yearly booklet is an excellent example of a project well done. By the way, you can check it here.
Be authentic, create something that has a meaning
Creating your company values can not be the same as marketing the launch of a new product. It is not a one-time event that you organize, where you put some "nice words" into a slide, and you are finished. Instead, it is a daily struggle to ensure everyone understands and follows them.
The process of defining our values at Seedstars was a very collaborative. We started with a small team consisting of the founders and employees that knew enough about the company to help shape what became our list of seven values. Defining your values statement was about imposing a set of fundamental, strategically sound beliefs on the whole company.
When you go through the process, use the people that are with the company the longest, they understand what its identity is, and which processes need to be strengthened and what behaviors should not be allowed.
As mentioned in Buffers' blog, although we have an explicit list of values, these are not set in stone and will evolve as the company grows to adapt to the new realities. Just a few weeks ago we added "no excuses culture" as one of the "get sh*t done" description.
If you're not willing to accept the pain real values incur, don't bother going to the trouble of formulating a values statement — Patrick M. Lencioni
Our Values at Seedstars
Our values represent the reality of the company. They show who we are and how we interact with each other.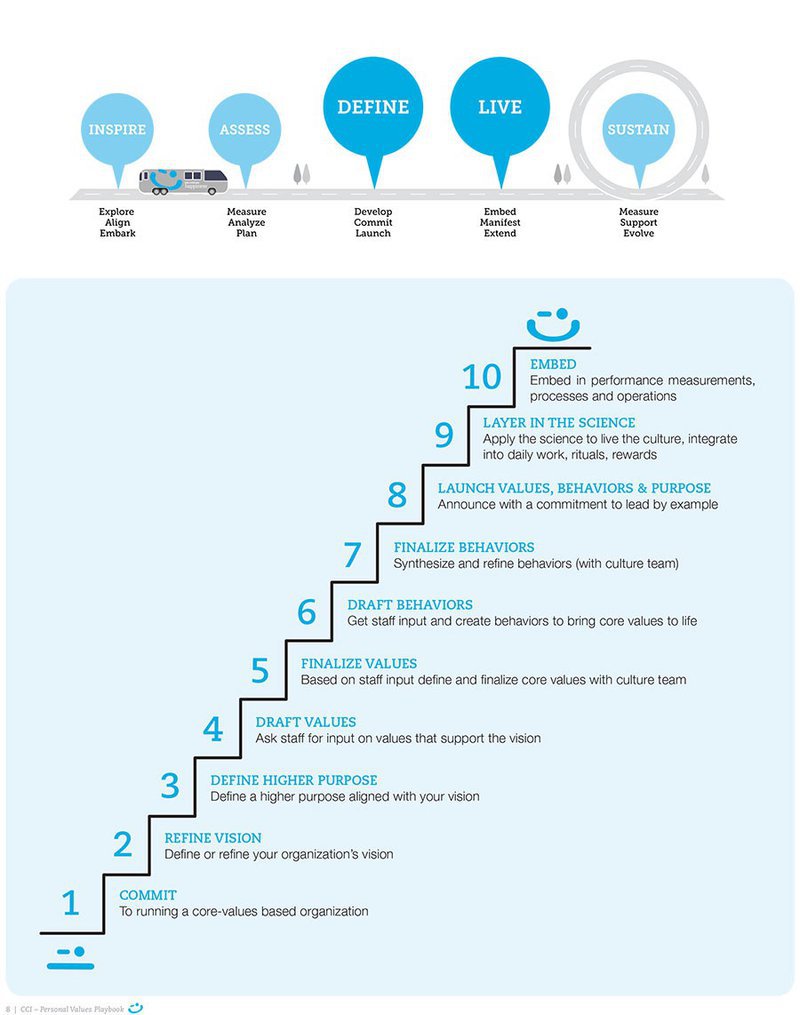 It is essential that the leadership team is the first that sets the example. Example from the top is a cornerstone of success but do not forget to strive for buy-in from everyone involved from the managers down to the intern that just joined the company yesterday.
When values mean nothing
There are many examples of a complete disconnection between company values and behaviors of the employees. The most recent one comes from Uber, one of the most famous unicorns of our time. Former U.S. Attorney General Eric Holder concluded an investigation into the company's culture that recommended replacing Uber's 14 values and relying on a new leader to reform the company's culture.
As Patrick M. Lencioni mentions: "I've spent the last ten years helping companies develop and refine their corporate values, and what I've seen isn't pretty. Most values statements are bland, toothless, or just plain dishonest."
We try to avoid this at all cost. Every day we reinforce the values when we have an opportunity to do so. One of my personal favorites is:
Keeping it Swiss let's wrap up the call as we only have 5 minutes left.
Wrapping up
Make no mistake: Living by the values you defined is not easy! However this daily struggle will compensate, and your organization will become stronger in the process. And if you are willing to devote your time and energy and create an authentic values statement, there is a high chance your company will be a lot more successful.
Our values mean a lot to me and I try to live by them every day. They are an essential part of our culture, show who we are and how we treat everyone at the company and how we expect to be treated.
These values might not be the right fit for everyone. That is fine! I hope this blog post helped you take the plugin and create a great value statement to help your company grow further.
About the Author: Luís Rodrigues is the CTO at Seedstars where he is in charge of technology and talent acquisition across the group. Before joining Seedstars was working for CERN in Geneva, Switzerland.
He has a Master degree in Artificial Intelligence from University of Évora (Portugal) where he was a lecturer for several years. He's lived in several countries in Europe, loves mountains and mountain sports. Is a snowboarding instructor and an ok-ish salsa dancer.
Disclaimer: Seedstars encourages freedom of speech and the expression of diverse views. The views of columnists published on Seedstars are therefore their own and do not necessarily represent the views of Seedstars.