19th September 2017, 1:13 pm – Mexico was hit by a 7.1 magnitude earthquake, 32 years after the 1985 Mexico earthquake that caused more than 10,000 deaths.
While technology and scientific progress have improved consequently the past 30 years, there are still elements that humans can't determine or fully handle. Earthquakes are a terrible example of it. If you happen to ever be exposed to a situation like this and/or want to know how to prevent and act quickly, you canthis article for best practices for best practices during an earthquake.
At the time of this writing, thousands of volunteers are in the streets of Mexico City working together and demonstrating an incredible chain of solidarity. Different brigades are searching for survivors under tons of rock from the over 40+ buildings that collapsed, groups of friends are driving all around the cities to distribute water, others are preparing sandwiches in the corner of the street to feed volunteers, and I guess the big majority of those people have an eye on their smartphone to get the latest information, offer or search for help and coordinate the actions.
In the context of the Mexico earthquake, technology has played an important role and helped to respond better to the disaster by connecting people and information. Here's a quick list of technologies that impacted people's lives in the city and hopefully can help handle catastrophes in other parts of the world:
Facebook's Safety Check – which first allowed users in disaster zones to mark themselves as safe is now also a social peer to peer platform to offer and ask for help. As a result, 27 hours after the temblor, the Facebook Safety Check for Mexico, Puebla, Rabosa's Earthquake counted with 1'103 help demands and 9'983 help offers.
Collaborative Google Map – allowed to elaborate customized maps to register the different zones where buildings collapsed as well as the different help centers available to assist the population. The collaborative Google Maps was also used some days ago to localize people that needed help after the Hurricane Harvey under the name, Rescue Houston Google map
Collaborative web page – as a non-profit initiative, the online page Comoayudarmexico.mx,was created to centralize in one place the different ways to help. It works with a well known open source development software, Github.
Amazon wish list – based on the needs shared by the Red Cross Mexico, Amazon created a customized list.
Airbnb Disaster Response Program – which allows Airbnb user as well as non-registered people to offer free accommodation for temporary periods.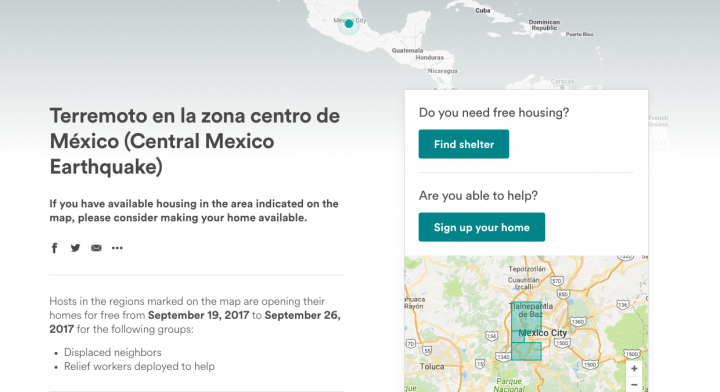 Many big tech names provided support by offering free services (check the article of Expansion here to know more). Other examples are Uber & Cabify who offered sponsored rides at defined times to help people move in the city or go back home. The telco operators Telcel & AT&T provided free calls and wifi. BBVA Bancomer, a bank leading the digital transformation, stopped to charge withdrawal fee at their ATM till the end of September.Mexican Startups, even with smaller teams and different resources, were totally part of the effort. And as in the market, they were often faster to react than big corporations. Three examples that highlight it well:
Rappi Mexico – the fast-growing delivery platform active in Mexico & Colombia – designed in a few hours an incredible service of support with on one side the possibility to do donations through their platform and one other having its float of delivery contractors on the ground doing food, medications or water delivery in different part of the city.
Bitso – Mexican first cryptocurrencies exchange platform – opened an account to receive donations in Bitcoin, Ethereum and Ripple allowing faster and more transparent money transactions.
Terapify – the early stage startup providing online psychological therapy – offered free sessions for people affected by the earthquake.
Many other startups shared advice with their user community such as the startup Pig.gi also currently working with Mowisat to provide free satellite internet at the distribution centers or Pay it that is facilitating donation transfer through its social payment platform.
If technology enables us to swiftly deal with natural disasters, it is not to forget that behind it, there are people. Entrepreneurs who are able to think fast about how to pivot their product/services or to leverage their community to serve the affected population and who are in the meantime driven by creating positive impact and by taking responsibility of being corporate citizens.I am actually not only speaking of company's founders but actually of any citizen that through this period of crisis acts with responsibility and is able to leverage technology and their network to impact and help with effectivity & solidarity. That's what Mexicans showed us this week by creating #BrigadaDigitalMX to organize help & information.#FuerzaMexicoFor the people abroad, who would like to support this chain of solidarity you can:
Make a donation (and considering the magnitude of damages, it would be much appreciated) :
Share your support, good energies & relevant verified information with #FuerzaMexico – it looks like nothing but I promise it's significant for people on the ground.
Header picture credit: Edgar Olguin, one of the rocking Mexican volunteer digitally & physically supporting efforts.