Lima's Co-Working Boom
Para leer en español por favor desplace el mouse hacia abajo.
Coworking spaces are the perfect way to exemplify the sharing economy, where remote and independent professionals, digital nomads, startups, SMEs and even companies with areas of technology and innovation can connect, share and collaborate. Originally, it was thought that this form of work was only for freelancers or professionals in the technology industry. Now, this perception has changed, giving way to a wide scope of experts ranging from lawyers, artists, engineers, writers and agencies of all kinds. This diversity creates a synergy among all members of the community, generating an extensive and diversified network where mutual support is beneficial for each one of them.
This way of working not only allows members to expand their network, but also generates savings of infrastructure and fixed office costs by not requiring them to immerse into long-term contracts or invest in offices that require remodeling and decoration. Coworkings also give flexibility to their members by allowing them to work in a casual yet professional space, increasing their productivity with tools that maximize their potential.
Each coworking space has a different identity and is directed towards distinct types of audiences. In this article you will find the most emblematic coworking spaces in the city of Lima.
1. Go Work Dasso
Web: www.gowork.com.pe/
Address: Calle Miguel Dasso 139, Of 701, San Isidro, Lima – Perú
For more information please contact: [email protected]
Go Work Dasso is the newest coworking space on the list, founded by Gisella Malca who spent more than 20 years in the United States as a marketing manager for major international brands such as Motorola and Estée Lauder. It was in Los Angeles where she witnessed the boom of coworking spaces and was inspired by them to bring the model to Peru. Gisella explained that space is directly related to people's productivity. By offering a well-designed space with a nice, modern and professional environment, you make the go worker feel that he is not going to an office, but to a space that will make him work by the best version of himself. "You're not renting a desk, you're renting the best working space that, by the way, also has a desk." To create this unique experience, Go Work offers various services such as lending you bicycles to move around the city, and making excellent cheeses and wines available to you in order to relax during work.
Go Work Dasso provides a great space in the best location of San Isidro, a fast paced city center where everything happens. This coworking is the first of many that Gisella and his partner Luis Fernando Hoyos plan to open in other districts, creating coworkings that adopt the personality of each environment without losing the essence of Go Work. Currently, they are also evaluating plans of expansion to other provinces such as Arequipa and Trujillo, where there are no options for coworking, but there is a large demand of entrepreneurs and professionals who require them.
2. Comunal Coworking
Web: www.comunalcoworking.com/
Address:
Calle Las Orquídeas 444, Piso 7, San isidro (esquina con Javier Prado), Lima – Perú
Avenida Benavides 1180, Piso 7, Miraflores, Lima – Perú
Calle Recavarren 111, Piso 7, Miraflores, Lima – Perú
Jirón Colina 107, Barranco, Lima – Perú
For more information please contact: [email protected]
Comunal Coworking is the largest and most established coworking space in Peru. With 4 years of trajectory and locations in Miraflores, Barranco and San Isidro, Comunal is a space that offers well designed facilities and excellent services. They have the most advanced fiber optic internet technology in Peru and a system of biometric security so that members can access their offices and spaces at any time. This coworking space is ideal for independent professionals, startups, SMEs and even teams of large companies. Comunal aims to be the best work space that accompanies its members in the growth of their businesses, from being small ventures to becoming bigger companies.
We talked with one of the founders and Director of Comunal, Ernesto De Olazával, who told us that the essence of Comunal is the relationships that are created among its members. Comunal currently has a mix between startups that are just starting, SMEs that are already stable, and companies that are already more consolidated. This mix leads companies to develop mutual feedback, allowing the most initial ventures to have the next stages alongside with them.
According to Ernesto, his mantra is "Trying to give back to the world, those starting startups, the energy and the resources to continue the virtuous circle." Comunal offers its services to renowned companies such as Uber, Mercado Libre, GoPro, Laboratoria, Sony Mobile, etc. In addition, Comunal constantly develops strategic alliances with ecosystem players to further expand its reach, such is the alliance with the Endeavor network where members of Comunal can be part of networking sessions to connect with mentors. This year Comunal Coworking has very ambitious plans to consolidate their presence by opening new spaces in the main neighborhoods of Lima.
3. Residencia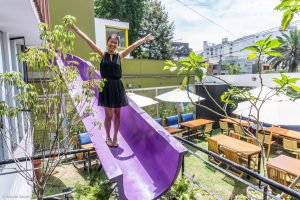 Seedspace Partner*
Web: www.residencia.pe/
Address: Avenida Reducto 1518 Miraflores, Lima – Perú
For more information please contact: [email protected]
Residencia Coworking is a space that is characterized by its bohemian and alternative personality. Through art, Residencia seeks to create a different atmosphere where creativity flows through all its corners. The walls are a window for exhibitions of paintings, photographs and collages, where both members and external artists have the opportunity to showcase their work. They also have a mural, work of a Peruvian entrepreneurship that uses an eco-friendly paint with technology that cleans CO2.
Residencia always looks to support entrepreneurs, as a consequence it has created an alliance with Mantel Largo who offers daily menu lunches within the Residencia kitchen, a benefit that Residents enjoy and that no other coworking offers. Another alliance it holds is with Barranco Beer Company, who creates a special artisan beer formula for Residents called Resichela.
We spoke with the Residencia administrator, Joi Paredes, who highlighted that in this coworking there is a synergy of knowledge and skills that occur in a very organic form. There are many cases of ventures that have occurred when an entrepreneur who comes with only 30 dollars in his pocket and ends up meeting partners with whom to start a new business. Such is the entrepreneurship of Peru Apps, an application development company. They also create weekly networking events where Residents can take a break and relax with a round of Chilcano cocktails.
At the moment Residencia is a space that installs more than 40 foreigners who are working remotely, professionals that come from different countries of Europe and the United States. For Joi, "foreigners are also important to maintain a fruitful ecosystem, to give an input to the house and to nourish one another."
Residencia is also part of the largest network of coworking/coliving hubs in emerging markets: Seedspace, part of the Seedstars group.
4. Canvas Coworking
Address: Calle Isaac Albéniz 491. San Borja, Lima – Perú
For more information please contact: [email protected]
Canvas Coworking is a collaborative space that seeks to empower independent workers, small entrepreneurs and freelancers. Co-founder Gian Franco Mercado, a Peruvian entrepreneur who has been living in Barcelona for many years, noticed in Europe the growing demand for coworking spaces with high level of interaction and synergy between professionals. Gian Franco always wanted to create a positive impact on the entrepreneurial ecosystem in Peru and for him, establishing a coworking space in Lima was the best way to accomplish that. For this reason, Canvas emphasizes training for its members through different programs, such as the Canvas School: workshops and classes which utilizes the most innovative methodologies to inspire the creativity of participants. One example is the Lego Serious Play workshop, which consists of dynamics using Lego pieces to identify and solve team problems, encouraging participants to generate innovative and "out-of-the-box" ideas.
Canvas Coworking holds a strategic alliance with Bridge for Billions incubator which has already incubated more than 106 startups in early stages in more than 21 countries through a completely online program. Finally, as part of Gian Franco's mission to promote the country's development, Canvas Coworking is working to implement a space called Socially Creative tailored for social entrepreneurs who are looking to co-create and collaborate, providing them with tools and events that encourage them to create projects that positively impact society.
5. Zona de Mejora
Address: Calle Alfredo Maldonado 654, Pueblo Libre, Lima – Perú.
For more information please contact: [email protected]
Zona de Mejora is located in Pueblo Libre and focuses on traditional entrepreneurs, that large proportion of entrepreneurs who started a business by necessity and have grown their businesses without knowing the best tools to reach their maximum potential.
We talked to the founder of the Zona de Mejora, Alberto Saco, who explained that these entrepreneurs are not always taken into account, being mostly entrepreneurs who belong in the technology industry who receive more support.
According to Alberto, "If a company that has revenues of over 2 million soles has deficiencies in productivity, imagine the potential that smaller companies are not able to reach, all these entrepreneurs should have this support." This is why the Zona de Mejora aims to provide this training to traditional entrepreneurs, so they can maximize their productivity and opportunities of success. This is conceived through its Enhancement Program whose mission is to be an integral space for the development of businesses. This program provides assessments to all members depending on their type of membership, these assessments include a diagnosis of processes, operations and the core of the business. Once the areas of improvement are identified and prioritized, an action plan is created by specialists in these areas. The Enhancement Program, in addition to providing consulting and business coaching on a monthly basis, also offers management services for specific projects. These services include assessing entrepreneurs to obtain quality certifications for their businesses such as ISO, as well as advising traditional commerce companies so that they can diversify and expand their distribution channels by implementing an e-commerce site, among other personalized services their members might require.
6. ASEP House
Web: www.asep.pe
Address: Calle Choquehuanca 764, San Isidro, Lima – Perú
For more information please contact: [email protected]
Although the ASEP House is not a commercial coworking space that rents offices, we included it on the list since it is a space of collaboration between entrepreneurs and startups. ASEP House is part of the Association of Peruvian Entrepreneurs, an organization that aims to eliminate barriers to entrepreneurship in Peru through different pro-entrepreneurship initiatives. The ASEP House opens its facilities for ASEP partners who pay a membership that involves the access to the accommodations with all services included.
We talked with Camila González, the Executive Director of the Association of Peruvian Entrepreneurs, who told us that the goal is "to have a collaborative house where several initiatives that are creating a positive impact on society, meet in a single space to work in a more articulated mode." For this reason the ASEP House has been home to several entrepreneurships such as Kunan, Leftherian, qAIRa, Mentor Perú and also independent entrepreneurs that rise from the ASEP Academy.
About the author:
Stephanie is a double degree trilingual hustler with strong background in Technology and Business. She's worked in tech giants such as IBM and in global startups based in China and France. Currently, she is a SeedStars Ambassador, a Marketing Coordinator in the Association of Peruvian Entrepreneurs, and a Customer Experience & Sales Specialist in Misterbnb. When she's not globe-trotting in search for cultural adventures, she's either relaxing doing yoga/meditation or looking for her next challenge.
Email: [email protected]
*************************************
En Español
Los espacios de coworking son la forma perfecta de ejemplificar la economía colaborativa, donde profesionales remotos e independientes, nómadas digitales, startups, pymes e incluso corporaciones con equipos de áreas creativas, tecnológicas o de innovación se conectan, comparten y colaboran. Inicialmente se pensaba que esta forma de trabajo era únicamente para freelancers o profesionales en tecnología. Ahora, esta percepción ha cambiado dando paso a una extensa gama de expertos que varían desde abogados, artistas, ingenieros, escritores y agencias de todo tipo. Esta diversidad logra crear una sinergia entre todos los miembros de la comunidad, generándose así una red de contactos amplia y variada donde el apoyo mutuo es beneficioso para cada uno de ellos.
Esta modalidad de trabajo no sólo permite a los miembros expandir su network, sino también genera ahorro en costos de infraestructura y servicios de oficina sin tener que amarrarse a contratos de largo plazo ni invertir en adquirir una oficina que requiere remodelación y decoración. Los coworkings también dan la flexibilidad de trabajar en un espacio casual y profesional a la vez, aumentando la productividad con herramientas y comodidades para despegar el potencial de sus miembros.
Cada espacio de coworking tiene una identidad diferente y se dirige a públicos muy distintos. En este artículo podrás encontrar los coworkings más emblemáticos de la ciudad de Lima.
1. Go Work Dasso
Web: www.gowork.com.pe/
Dirección: Calle. Miguel Dasso 139, Of 701, San Isidro, Lima – Perú
Para más información por favor escribir a [email protected]
Go Work Dasso es el coworking más reciente de la lista, fundado por Gisella Malca quien vivió más de 20 años en Estados Unidos siendo gerente de marketing de importantes marcas internacionales como Motorola y Estée Lauder. Fue en Los Ángeles donde presenció este boom de espacios de coworking y se inspiró en ellos para emprender y traer este modelo a Perú. Gisella nos afirma que el espacio está directamente relacionado a la productividad de las personas. Al ofrecer un espacio muy bien diseñado, con un ambiente bonito, moderno y profesional, logras hacer que el go worker no sienta que va a una oficina, sino a un espacio que hará que trabaje con la mejor versión de sí mismo. "Tú no estás alquilando un escritorio, estás alquilando el mejor de los espacios que, además, tiene un escritorio". Para crear esta experiencia única, Go Work ofrece diversos servicios como prestarte bicicletas para moverte en la ciudad, poner a tu disposición excelentes vinos y quesos para relajarte un momento durante el trabajo.
Go Work Dasso brinda oficinas y espacios en la mejor ubicación de San Isidro, un lugar citadino y rápido donde todo ocurre. Este coworking es el primero de muchos que Gisella y su socio Luis Fernando Hoyos planean abrir en otros distritos, creando así coworkings que adopten la personalidad de cada entorno sin perder la esencia de Go Work. Actualmente también están analizando planes de expansión a otras provincias como Arequipa y Trujillo, donde no hay opciones de coworking, pero sí existe un gran mercado de empresarios y profesionales que requieren de ellos.
2. Comunal Coworking
Web: www.comunalcoworking.com/
Direcciones:
Calle Las Orquídeas 444, Piso 7, San isidro (esquina con Javier Prado), Lima – Perú
Avenida Benavides 1180, Piso 7, Miraflores, Lima – Perú
Calle Recavarren 111, Piso 7, Miraflores, Lima – Perú
Jirón Colina 107, Barranco, Lima – Perú
Para más información por favor escribir a [email protected]
Comunal Coworking es el espacio de coworking más grande y establecido del Perú. Con 4 años de trayectoria y locales en Miraflores, Barranco y San Isidro, Comunal es un espacio que ofrece instalaciones muy bien diseñadas y excelentes servicios. Cuentan con la tecnología de internet fibra óptica más avanzada del Perú y también con un sistema de seguridad dactilar para que los miembros puedan acceder a sus oficinas o espacios cuando quieran y en cualquiera de los locales. Este espacio de coworking es ideal tanto para profesionales independientes, startups, pymes e incluso equipos de grandes empresas. Comunal busca ser el mejor espacio de trabajo que acompañe a sus miembros en el crecimiento de sus negocios, desde que son pequeños empresarios hasta convertirse en empresas más grandes.
Conversamos con uno de los fundadores y Director de Comunal, Ernesto De Olazábal, quien nos contó que la esencia de Comunal son las relaciones que se crean entre sus miembros. Actualmente Comunal tiene un mix entre startups que recién arrancan, pymes que ya son estables, y empresas que ya están más consolidadas. Este mix logra crear una retroalimentación entre las empresas, permitiendo que los emprendimientos más iniciales puedan tener a las siguientes etapas al lado suyo. Según Ernesto, su mantra es "Tratar de devolverle al mundo, esas startups que están arrancando, la energía y los recursos para continuar el círculo virtuoso." Comunal ofrece sus servicios a empresas reconocidas como Uber, Mercado Libre, GoPro, Laboratoria, Sony Mobile, etc. Además, Comunal busca crear alianzas estratégicas con jugadores del ecosistema para seguir expandiendo su alcance, tales como la alianza con la red Endeavor donde los miembros de Comunal pueden ser parte de las sesiones de networking y conectarse con mentores. Este año Comunal Coworking busca consolidarse en el mercado abriendo nuevos espacios en los principales distritos de Lima.
3. Residencia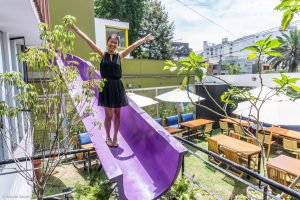 Dirección: Avenida Reducto 1518 Miraflores, Lima – Perú
Para más información por favor escribir a [email protected]
Residencia Coworking es un espacio que se caracteriza por su personalidad bohemia y alternativa. A través del arte, Residencia busca crear una atmósfera diferente donde la creatividad fluye en todas sus esquinas. Las paredes son una ventana para exposiciones de pinturas, fotografías, collages, donde tanto artistas miembros como externos tienen la oportunidad de exponer sus obras. También cuentan con un mural, obra de un emprendimiento peruano que usa pintura eco amigable con una tecnología que limpia el CO2.
Residencia siempre busca apoyar a emprendimientos, por ello ha creado una alianza con Mantel Largo quien ofrece servicios de almuerzos menú diariamente dentro de la cocina de Residencia, beneficio que los Residentes disfrutan y que ningún otro coworking ofrece. Otra alianza que sostiene es con Barranco BeerCompany, quienes crean una fórmula de cerveza artesanal especial para los Residentes llamándola Resichela.
Conversamos con la administradora de Residencia, Joi Paredes, quien nos recalcó que en este coworking existe una sinergia de conocimientos y habilidades que ocurren de una manera muy orgánica. Hay muchos casos de emprendimientos que han ocurrido desde un emprendedor que llega con 100 soles en el bolsillo y termina conociendo a socios con los que empezará un nuevo negocio. Tal es el emprendimiento de Perú Apps, un desarrollador de aplicativos. Además crean eventos de networking semanalmente donde los Residentes pueden tomarse un break y relajarse con una ronda de chilcanos.
Actualmente Residencia es un espacio que instala a más de 40 extranjeros que están trabajando de forma remota, profesionales que vienen de distintos países de Europa y Estados Unidos. Para Joi, "los extranjeros también son importantes para mantener un ecosistema fructífero, darle un input a la casa y que puedan nutrirse entre ellos."
4. Canvas Coworking
Dirección: Calle Isaac Albéniz 491. San Borja, Lima – Perú
Para más información por favor escribir a [email protected]
Canvas Coworking es un espacio colaborativo que busca potenciar proyectos de trabajadores independientes, pequeños empresarios y freelancers. Su cofundador Gian Franco Mercado, emprendedor peruano quien vive en Barcelona hace muchos años, percibió en Europa la creciente demanda de espacios cowork donde existe un alto nivel de interacción y sinergia entre profesionales. Gian Franco siempre quiso crear un impacto positivo en el ecosistema de emprendimiento en el Perú y para él, establecer un espacio de coworking en Lima era la mejor herramienta para hacerlo. Por ello, Canvas tiene un énfasis en la formación de sus miembros y lo hace a través de distintos programas, como el Canvas School: talleres, workshops y clases donde capacitan con las metodologías más innovadoras para inspirar la creatividad de los participantes. Un ejemplo es el taller de Lego Serious Play que consiste en dinámicas usando piezas de Lego para la identificación y resolución de problemas en equipo, fomentando a los participantes a generar ideas innovadoras y "fuera de la caja".
Canvas Coworking sostiene una alianza estratégica con la incubadora Bridge for Billions la cual ya ha incubado a más de 106 startups en fases tempranas en más de 21 países mediante un programa completamente online. Finalmente, como parte de la misión de Gian Franco en promover el desarrollo del país, Canvas Coworking está trabajando en implementar un espacio llamado Creativo Social especialmente para emprendedores sociales que busquen co-crear y colaborar, brindándoles de dinámicas y eventos que los impulsen a crear proyectos que impacten positivamente a la sociedad.
5. Zona de Mejora
Dirección: Alfredo Maldonado 654, Pueblo Libre, Lima – Perú.
Para más información por favor escribir a [email protected]
Zona de Mejora está ubicado en Pueblo Libre y se enfoca en emprendedores tradicionales, aquella proporción tan grande de emprendedores que empezaron un negocio por necesidad y han crecido sin conocer las mejores herramientas para llegarlo a su máximo potencial. Conversamos con el fundador de Zona de Mejora, Alberto Saco, y nos comenta que estos emprendedores son un público que muchas veces no son tomados en cuenta, siendo mayormente los emprendedores que pertenecen en el sector de tecnología quienes reciben más apoyo.Según Alberto, ¨Si una empresa que factura 2 millones de soles tiene deficiencias en productividad, imagina el potencial que no llegan a explotar las empresas más chicas, todos estos emprendedores deberían tener este apoyo¨. Es por ello que Zona de Mejora busca brindar esa formación a emprendedores tradicionales, para que puedan maximizar su productividad y oportunidades de éxito. Esto lo concibe a través de su potenciadora cuya misión es ser un espacio integral para el desarrollo de emprendimientos. Dentro de la potenciadora Zona de Mejora, se brindan asesorías a todos los miembros de acuerdo a su membresía donde se diagnostican los procesos, operaciones y el core del negocio. Una vez se identifican y priorizan las áreas a mejorar, se pone en marcha un plan de acción con especialistas en estos rubros. La potenciadora además de dar consultorías y coaching empresarial de manera mensual, también ofrece servicios de gestión de proyectos particulares que requieran los miembros. Dentro de ellos está la asesoría a emprendedores para poder obtener certificaciones de calidad para sus negocios como el ISO, también el asesoramiento a las empresas tradicionales de comercio para que puedan diversificar y expandir sus canales de distribución al implementar un sitio de e-commerce, entre otros servicios personalizados que requieran sus coworkers.
6. Casa ASEP
Web: www.asep.pe
Dirección: Calle Choquehuanca 764, San Isidro, Lima – Perú
Para más información por favor escribir a [email protected]
Si bien la Casa ASEP no es un coworking comercial de alquiler de oficinas o espacios, lo incluimos en la lista ya que es un espacio de colaboración entre emprendedores y startups. La Casa ASEP es parte de la Asociación de Emprendedores del Perú, organización que busca eliminar las barreras de emprendimiento en el país a través de diferentes iniciativas pro-emprendimiento. La Casa ASEP abre sus instalaciones para los asociados ASEP quienes pagan una membresía para poder hacer uso de las instalaciones con todos los servicios incluidos.
Conversamos con Camila González, Directora Ejecutiva de la Asociación de Emprendedores del Perú, quien nos contó que el objetivo es "el día de mañana poder tener una casa colaborativa donde varias iniciativas que estén creando un impacto positivo en la sociedad, se encuentren en un mismo lugar para así trabajar de una manera más articulada". Por ello la Casa ASEP ha sido hogar de diversos emprendimientos como Kunan, Leftherian, qAIRa, Mentor Perú y también de emprendedores independientes que resultan de la Academia ASEP.
Sobre la autora:
Stephanie es una profesional trilingüe con doble bachiller y un fuerte background en Tecnología y Negocios. Ha trabajado en gigantes tecnológicos como IBM y en startups globales con sedes en China y Francia. Actualmente es Embajadora de SeedStars, Coordinadora de Marketing en la Asociación de Emprendedores del Perú, y Especialista en Experiencia del Cliente y Ventas en Misterbnb. Cuando no está viajando por el mundo explorando nuevas culturas, está relajándose haciendo yoga y meditación o buscando nuevos desafíos y aventuras.
Email: [email protected]